You are renovating and you need a new bathroom, but you don't want something ordinary and simple? Then you need a closed whirlpool bath, which will help you to relax after a hard day's work, and regular hydromassage will improve blood circulation, relieve the pain of spinal problems and make your skin firmer, as well as hydromassage noticeably helps in the prevention of cellulite.  In addition, a whirlpool bath is a practical and functional decoration of the bathroom.
#1 Cozy Hot Tub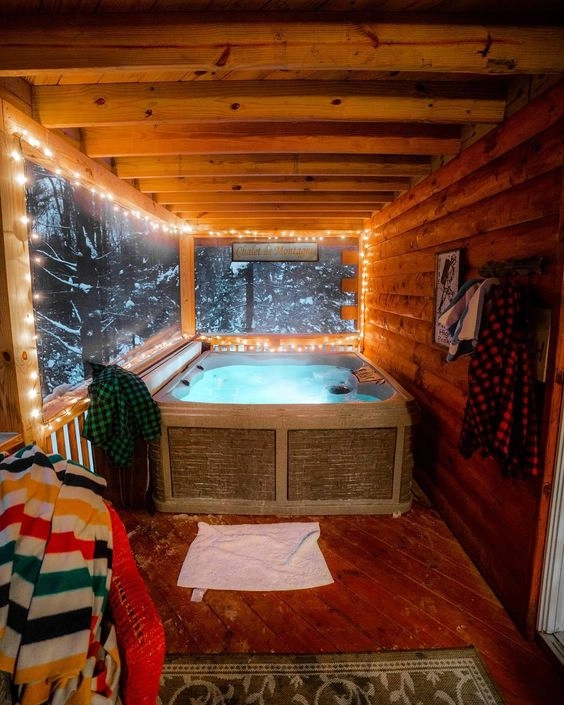 Coziness is also important when working with the interior of the bathroom, because otherwise you will not get aesthetic pleasure, which means that you will not relax mentally. As you can see, the walls of this room are transparent, which will please and will not suit everyone, but if your home is somewhere on the ocean, or in the woods, then this is a great idea, and in addition to a nice whirlpool, you will enjoy the beautiful views.
#2 Large hot tub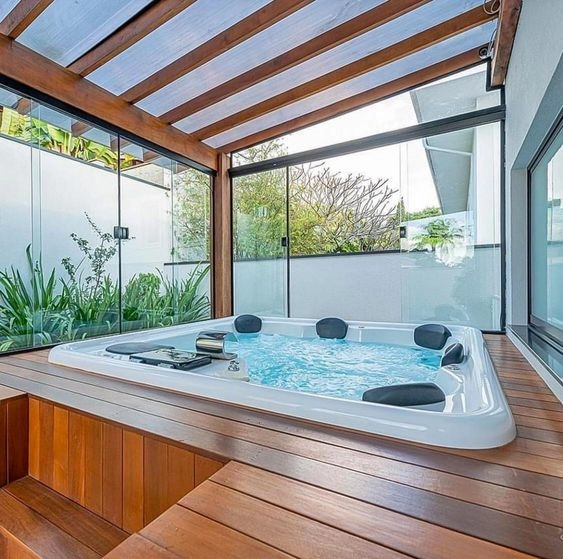 You can even have parties with friends in such a hot tub, but you need either high fences or tinted windows from the street for such a room. Despite this, you will be able to get the desired dose of relaxation and unwind after a hard and stressful day at work. Such a room will be an indication of the status of the homeowner, because you essentially have a spa area at home.
#3 Addition with whirlpool hot tub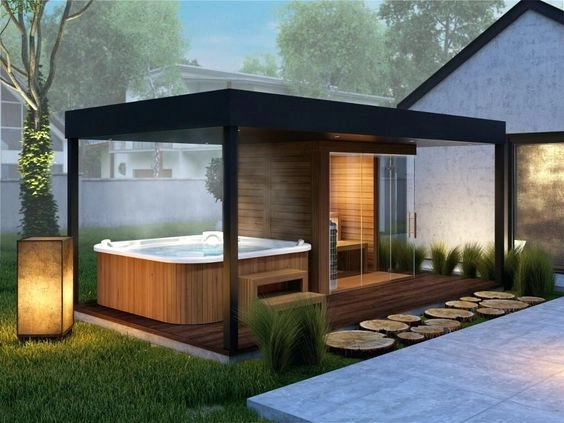 The transparent glass annex with a whirlpool will be your favorite place to relax and unwind. The system has not only relaxing but also health-improving properties. Massage can have an invigorating effect on the body, it helps to achieve harmony and brings benefits.
#4 Built-in hot tub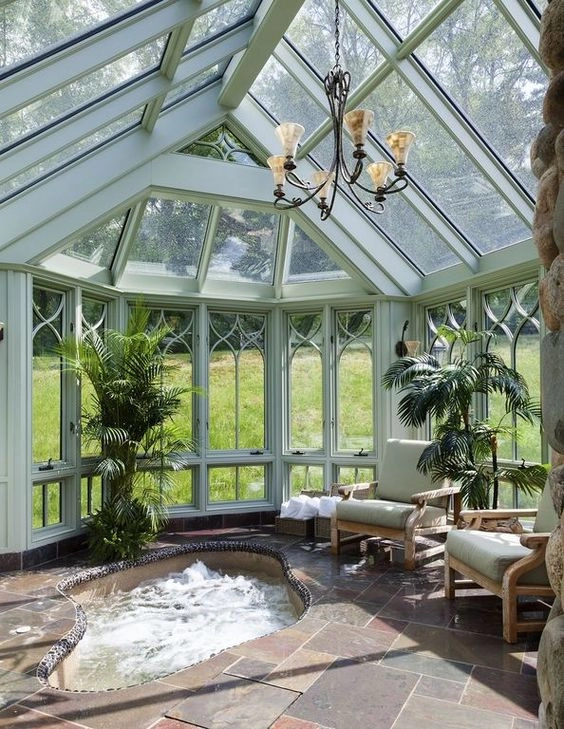 A very attractive and unusual variant of a whirlpool bath, firstly, it has a rather unusual shape, and secondly, it is built into the floor, which not only saves space, but also diversifies the interior of your bathroom. Just imagine lying there, and the water jets and air bubbles are pleasantly relaxing and revitalizing, and this effect can be felt just at home, without any spas.
#5 Hot tub with a swimming pool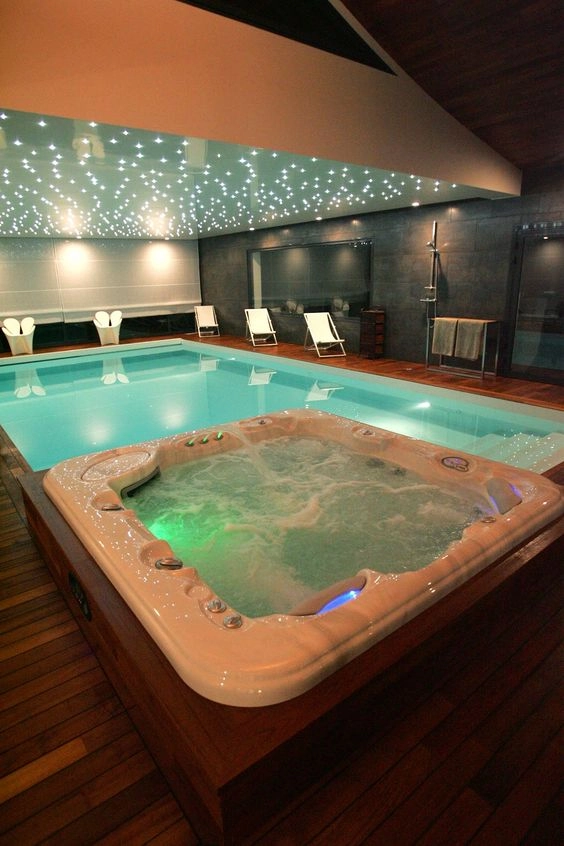 This is the most luxurious version of the location of the hot tub, because it is located directly in the pool, of course, the fact that it will require a lot of money, no doubt, but if you have the opportunity – why not. Such a room will definitely surprise your guests and become the main attribute in your home.
#6 Incredibly stylish hot tub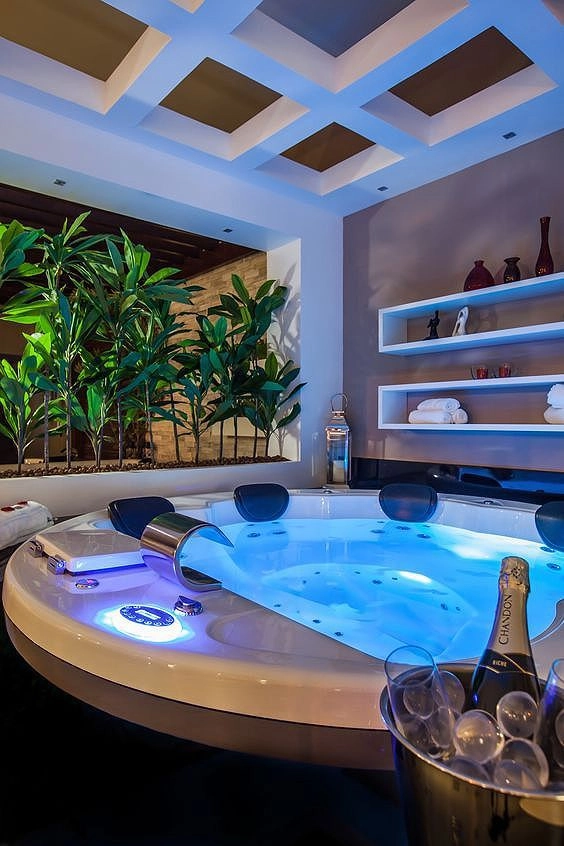 Modern and stylish whirlpool bath looks very impressive and looks like some kind of spaceship, and the bath is also equipped with chromotherapy (changing lighting) and sound speakers, which will bring even more pleasure from the bath and hot tub.
#7 Wooden style hot tub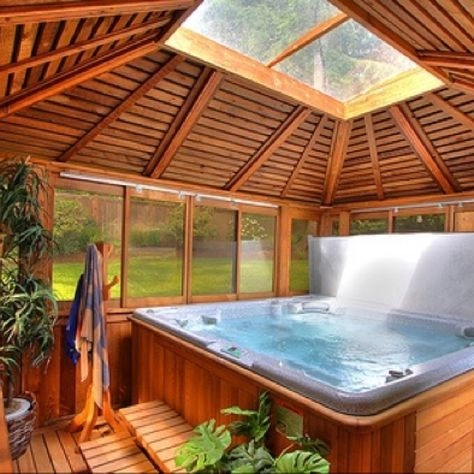 Thanks to this design, this bathroom looks like a sauna, and the wooden walls and floor create an excellent comfort, and the room looks very natural. Buying such a bath you will definitely not regret, but only enjoy pleasant procedures and relax, in this bath all unnecessary thoughts go away, and you plunge into a state of relaxation.
#8 Jacuzzi tub with a fireplace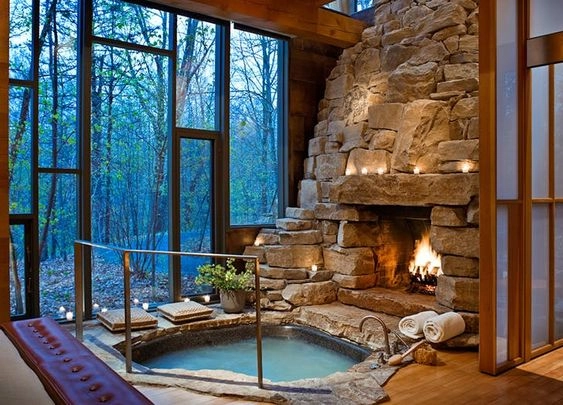 This whirlpool bath is also built into the floor, which looks very cool and unusual, and another chic addition is a huge stone fireplace, which creates incredible comfort and warmth. Just imagine how after a hard day's work you are relaxing in a hot tub, in a warm room and against the background of a pleasant crackling of firewood in the fireplace, what can be better?
#9 Marble Hot Tub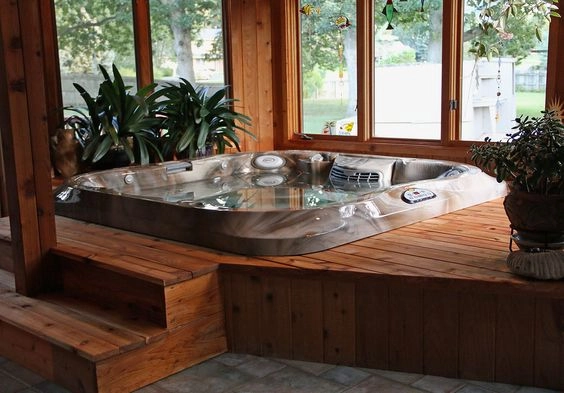 This bath, thanks to the material of which it is made, perfectly retains heat, and the water stays hot for a long time, as well as the bath has excellent durability and its surface does not accumulate bacteria, which is also important. Also, the surface of the bath has the ability to absorb vibrations when using a whirlpool.
#10 Hot Tub in the Rocks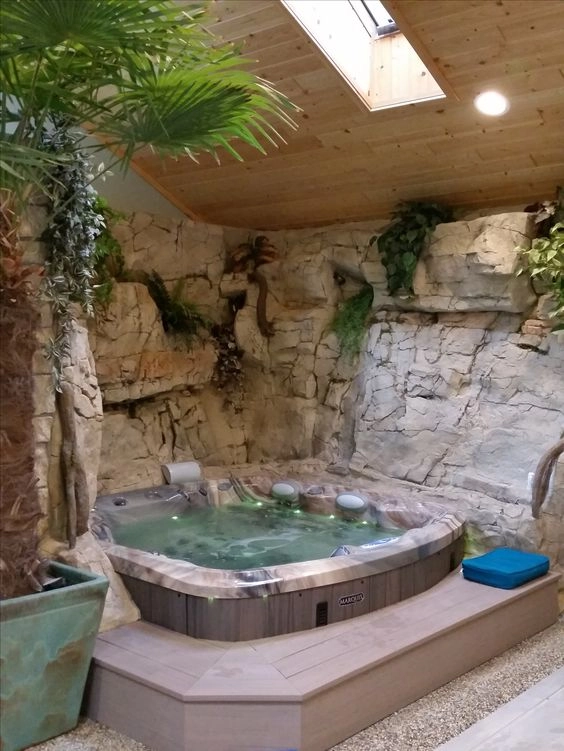 With such a bath you will have the feeling that you are in the mountains, such an effect can be created without using natural stones, but to use artificial moulage, which will be many times cheaper. They perfectly imitate real stone and create the effect of a heavy mountain and look very natural, so when you take a bath, you will be transported into the mountain nature and relax to the maximum.
#11 Corner hot tub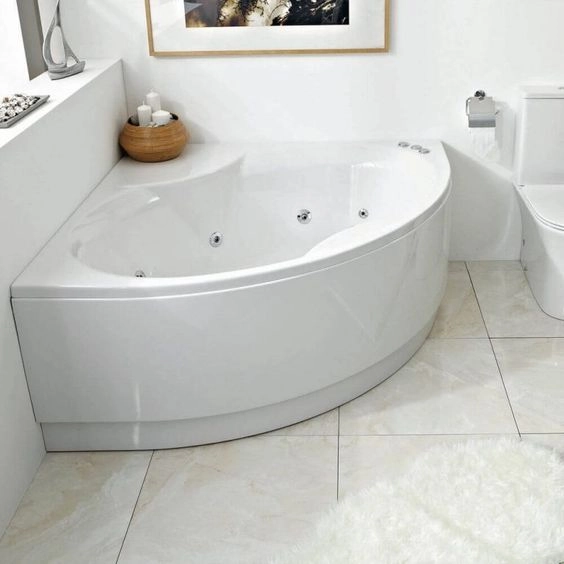 For a room of small size, a corner bath is the best option, nevertheless, it is comfortable enough in terms of bathing. There are also various options for such corner bath ideas, for example, very interesting and unusual is the option with a glass wall, but it is important that the glass should be secure and of good quality, as well as have good strength and be tempered.
#12 Circular whirlpool bath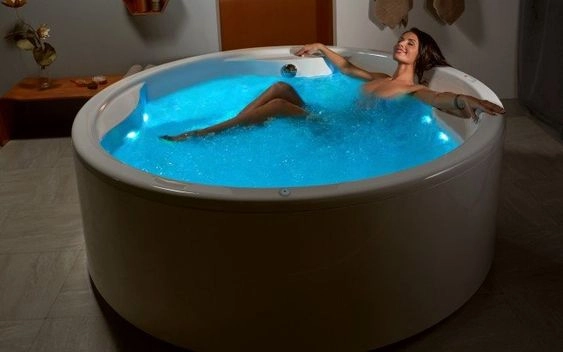 Such a bath would look perfect, for example, in the middle of a spacious bedroom, or if you do not like this arrangement, you can put it in the bathroom, it will look just as good. Despite the minimalist design, you will get maximum comfort and benefit from the whirlpool, and most importantly – your nervous system will thank you, and the muscles will be toned, along with tightened skin.
#13 The utmost modern hot tub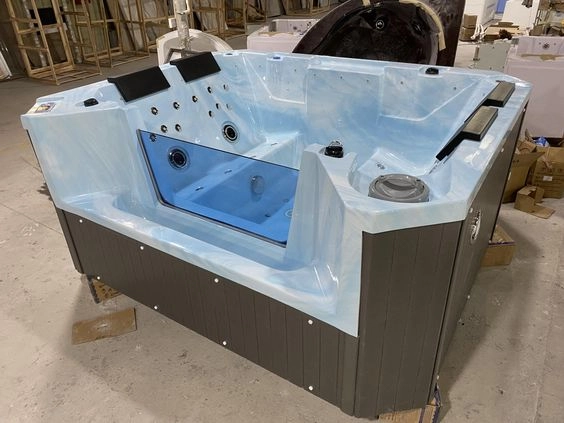 Hot tub in a modern design not only looks cool and stylish, but also has additional new hot tub functions. Thanks to its large size, you can relax here with friends, it's a great substitute for a spa and sauna, so if you like this kind of sitting, you urgently need such a tub.
#14 Transparent hot tub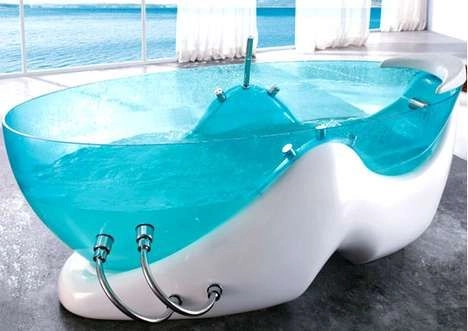 This glass blue bathtub will transport you to the sea, with this effect it will be even more pleasant to relax. Instead of looking into the whitewashed depths of your enameled tub, this massage bathtub is equipped with a clear blue acrylic bowl, which promotes a sense of openness and connection with the bathroom space around you.
#15 Black Hot Tub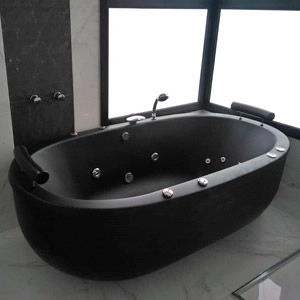 A very fashionable and modern bathtub in black is an unusual solution, but if you have long wanted to try something new and add black to the interior – now is the time, because when decorating the bathroom more and more people are looking for non-standard solutions that contradict modern trends, they want a unique interior, with which they could express their individuality. Black is elegant and versatile, it never goes out of fashion and looks chic in combination with contrasting colors.