If your living room lacks coziness and warmth, perhaps it's time for a change, and a covered hearth will help you do it. It can be made in any style from any, naturally fireproof, materials. This element of decor will give your living room sophistication and luxury, and will impress your guests when you sit at the fireplace table. In our article you will find interesting ideas for indoor hearths in the interior.
#1 Glass indoor hotspots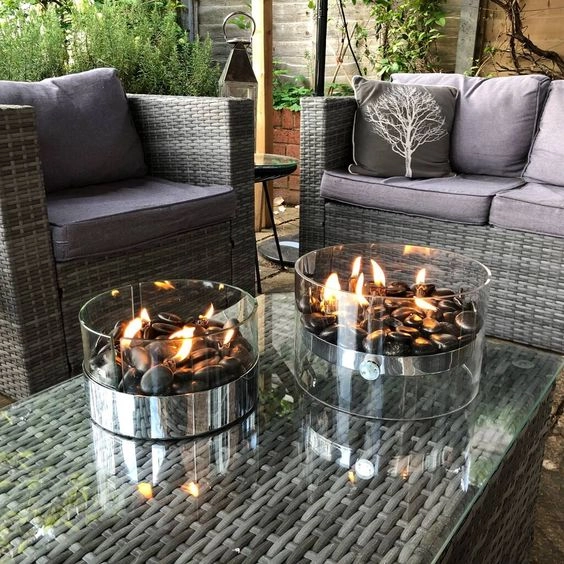 These indoor hearths look unusual, stylish and are a great addition to the interior and create an incredible comfort. They are made of durable tempered glass, which makes them look very aesthetically pleasing and modern, but you should not forget about safety precautions and leave the indoor hearth unattended. These hearths use special lava stones for classic burning.
#2 Fireplace table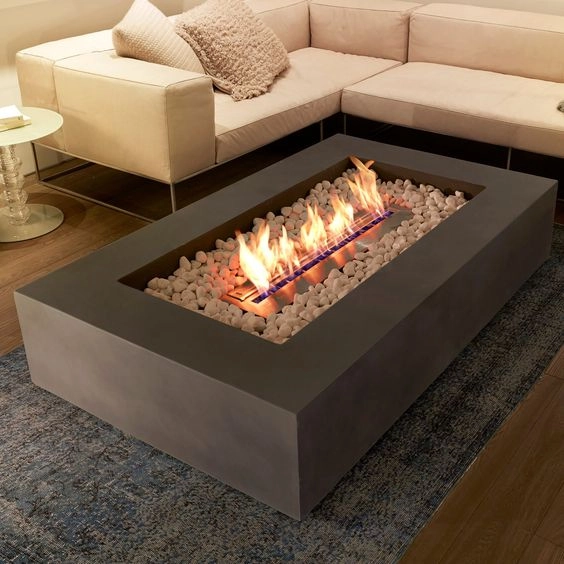 This indoor hearth is made of fiberglass-reinforced concrete for durability, fire resistance and strength. The table is equipped with a stainless steel linear burner system that provides a high, superior bright flame, for ignition of which the table is equipped with a reliable control system, and it also allows you to adjust the power of the fire.
#3 Stone fire bowl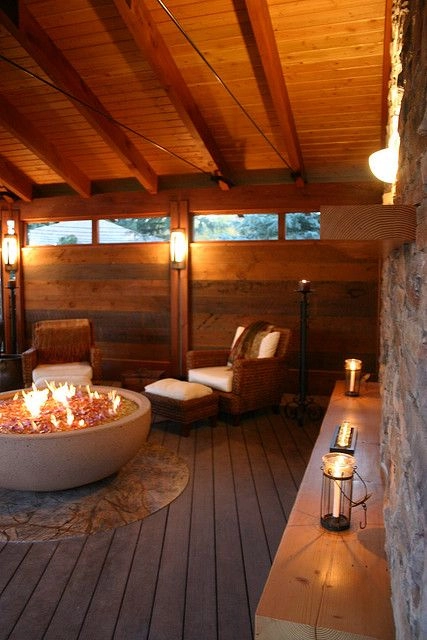 This version of a covered hearth is great for a covered backyard patio and makes a great addition to it. This stone bowl creates incredible coziness and is a great substitute for a fireplace that requires wood, because this stone indoor hearth creates fire thanks to the gel fuel that is hidden under the stones.
#4 Fireplace built-in table
This idea of installing an indoor fireplace is very unusual and extraordinary, and in principle "fire indoors" – already sounds extraordinary, but do not be afraid of such interesting elements, because if you use them wisely, nothing terrible will happen, and your guests will get a dose of surprise and experience. Due to the glass round walls around the fire you will not get burnt, and the fire will not go beyond their limits.
#5 Glass indoor centerfire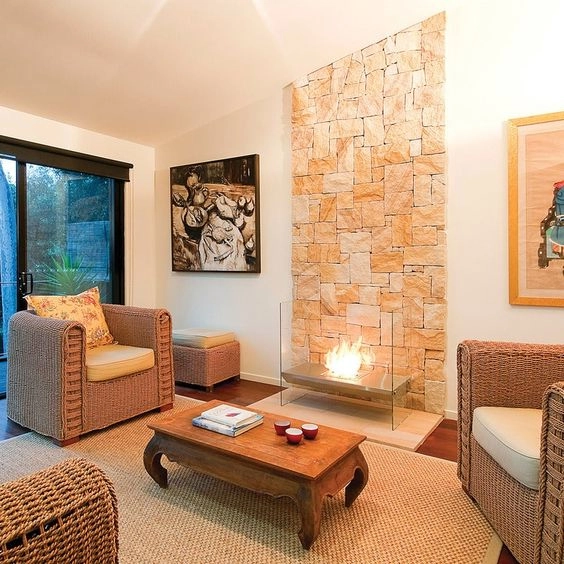 Thanks to the walls of durable tempered glass, this version of the fireplace in the room looks very stylish and modern, and gives the impression as if the fire is floating in the air. This element of decor will not remain without the attention of your guests, and will please you and your family, creating a pleasant atmosphere and comfort.
#6 Portable fireplace on a brick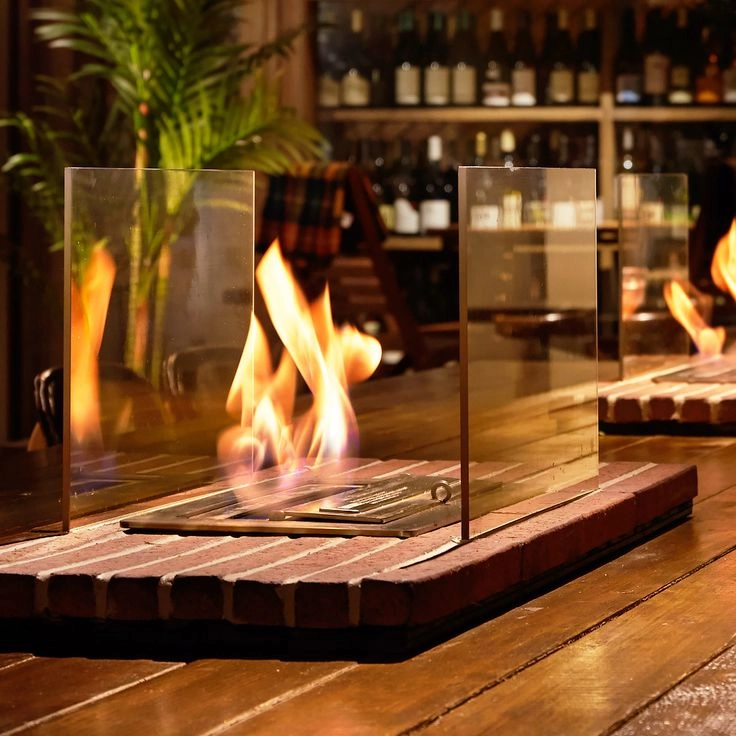 This portable pit on a brick base will brighten up any room, create a romantic ambiance in the dining room and bathroom, and create a cozy atmosphere for reading a favorite book or evening gatherings with family or friends in the living room. This variant of a hearth also uses linear burner systems.
#7 Indoor fireplace pit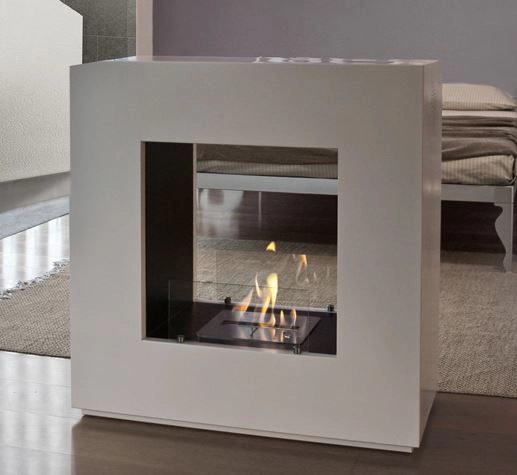 This modernized fireplace looks modern and stylish, especially worth considering this idea if you like minimalist style, because that's the style of this indoor fireplace. It features stainless steel burner systems and small fireproof glass walls for your safety.
#8 Fire in Glass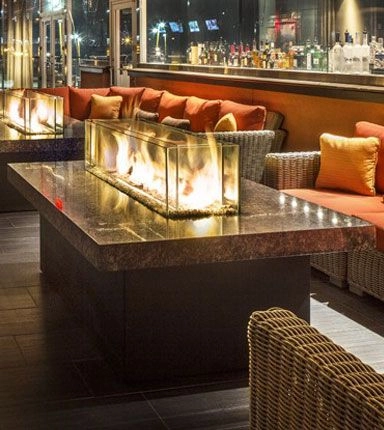 Such a table is sure to decorate your living room or recreation area, because the fire in the glass looks very unusual and bright. Just imagine how you are sitting with a cup of delicious tea or coffee, reading an interesting book, while being covered with a plaid, and in the background red tongues of flame are beautifully shimmering, incredibly cozy atmosphere!
#9 Fire in the table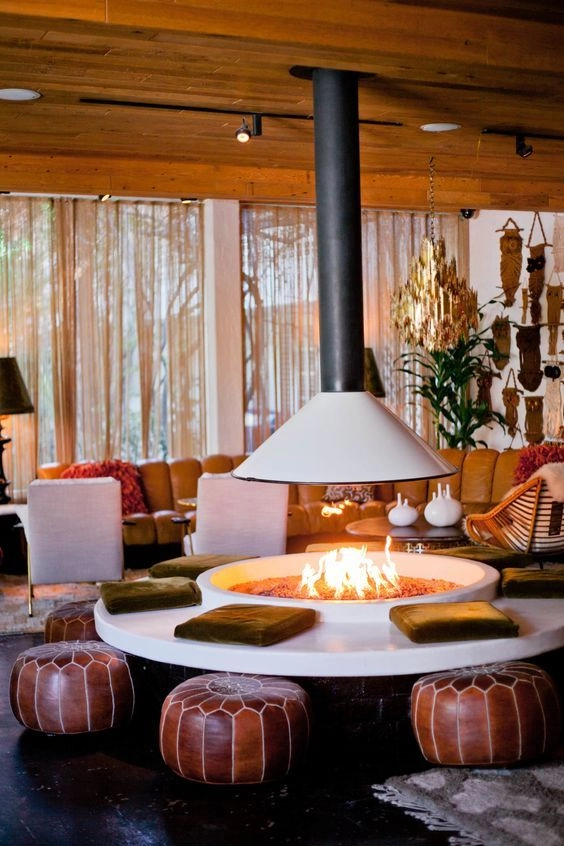 Stone table with a round hole in the center is a good basis for the hearth, it is even possible to make a real mini-fire from wooden chips, or use special lava stones for the fire, which provide the classic combustion. Around such a table, you can get together with a large group of friends or organize family events, and have such a table can be placed both in the house and on the covered patio in the backyard.
#10 Mini pits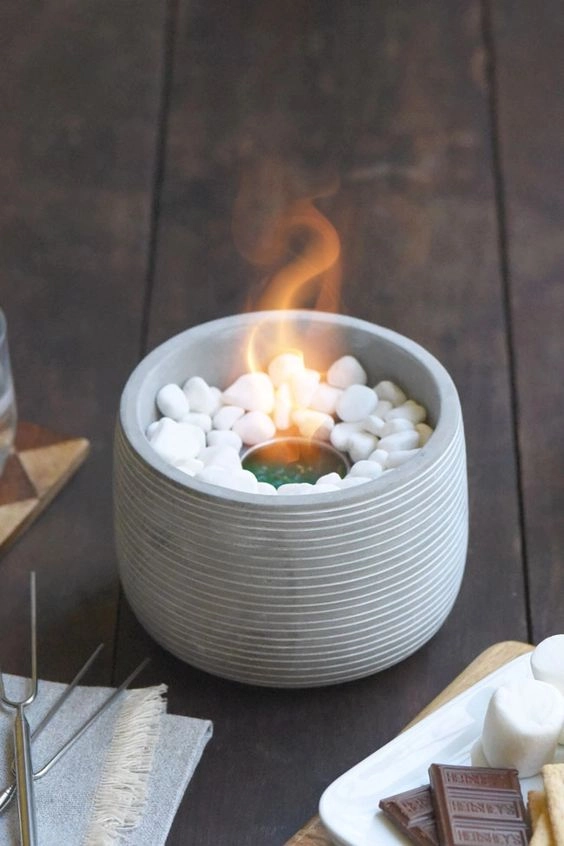 Mini fireplaces can be placed in the living room or dining room and used as mini fires to roast marshmallows. This is an ideal arrangement for fun times with friends, such as sleepovers. You can also put these mini hearths in the bathroom for a romantic setting.
#11 Gas indoor table top hearth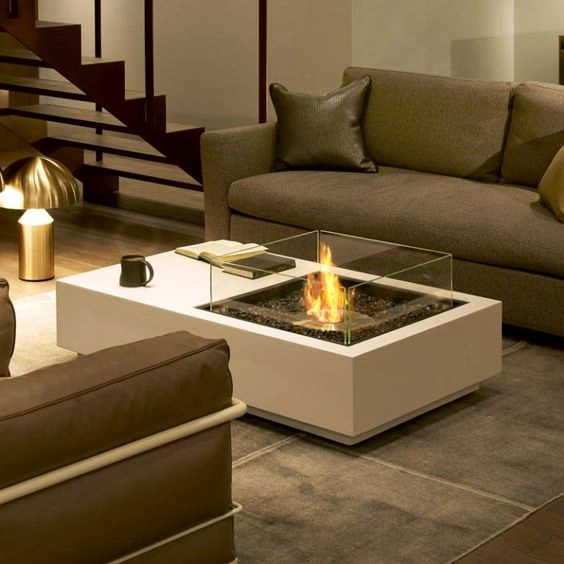 This white table with a built-in hearth, powered by a gas element, will diversify a dull and cold interior. You can easily use this hearth to heat the room on a cold spring or summer evening, and create a pleasant atmosphere in the room. Of course, such hearths will not replace a full-fledged fireplace with crackling wood, but if you, for example, live in an apartment, it is quite an adequate option for a covered hearth at home.
#12 Granite table with fireplace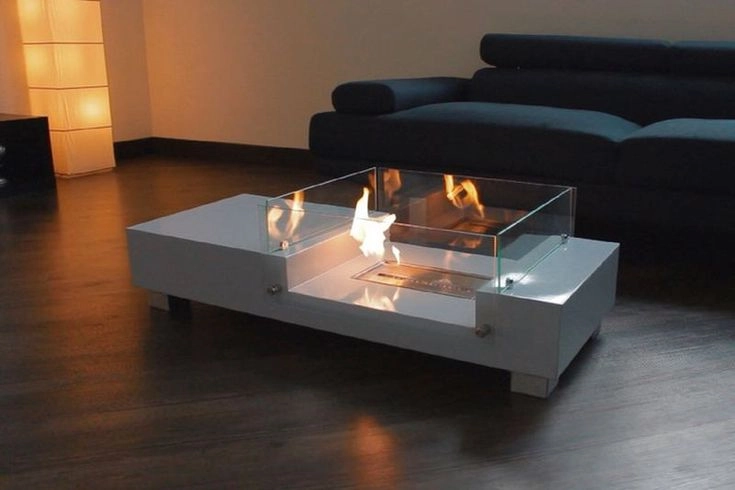 The white granite table with home hearth is equipped with tall glass railings to keep the fire from escaping beyond the table's borders. Naturally, the glass walls are strong and fireproof, this is provided for your safety. The main advantage of these hearths is that they burn without soot, soot and ash, and that they can be installed in any room.
#13 Flying Fire Table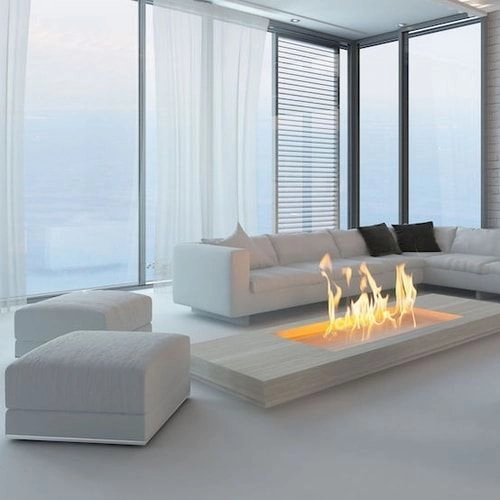 The upgraded stylish table is a deluxe hearth option for your modern apartment design, and its unusual appearance gives the illusion that it is floating in the air. In this option, the fire is also an illusion, or projection, so it is completely cool and safe for you and your apartment, but despite the fact that it is not real in appearance it is not inferior even to a fire. This idea of an indoor fireplace is perfect for everyone, because it is the most fashionable and, most importantly, safe option.
#14 Fire table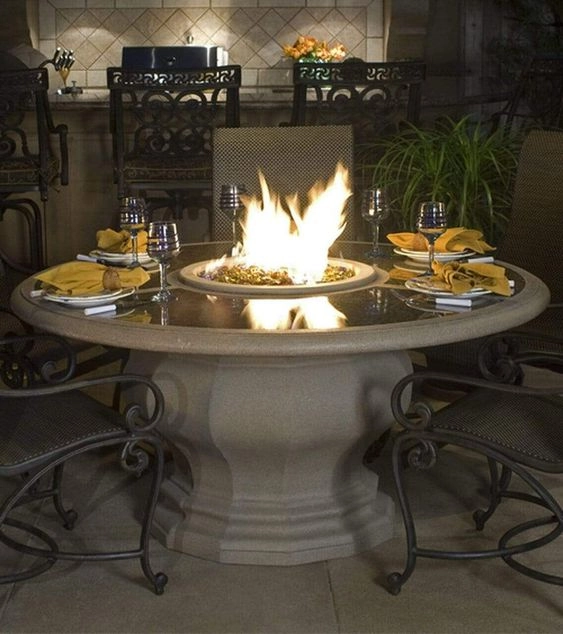 On such a table with fire you can even cook or heat up food, you can use this spectacular trick to impress your guests. The table itself is made of concrete, and has a decorative trim in the form of different patterns, and includes two fuel options to choose from: natural gas or autonomous cylinder of propane.
#15 Forged table with fire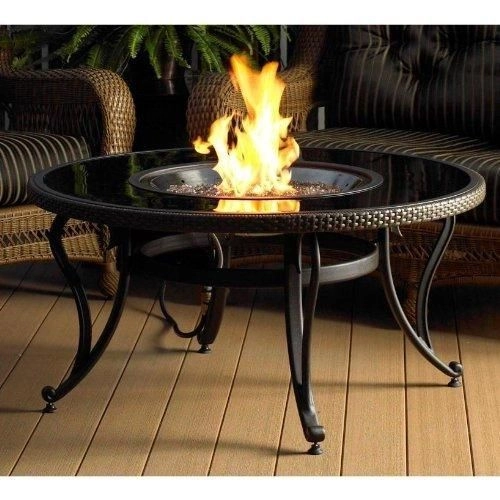 A small iron wrought iron table with a fireproof glass surface will be a great addition to the living room, if you cover the hole for the hearth with a special cover, we have an ordinary small coffee table, but once you remove this cover and turn on the fire, the notes of coziness begin to float in the atmosphere.
#16 An unusual modern home fire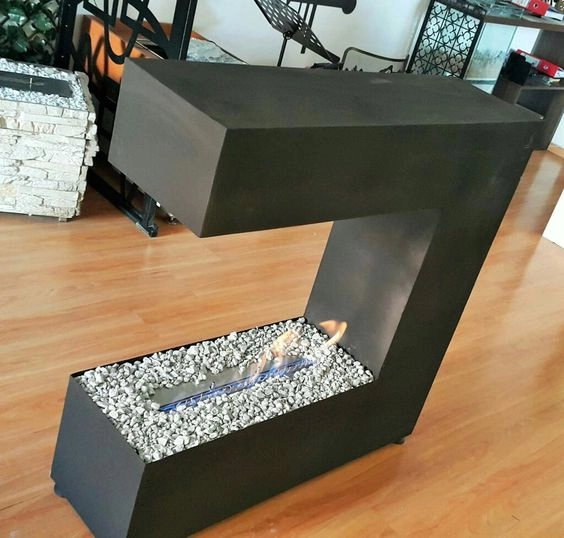 The indoor fireplace in this format looks modern and stylish, and the concrete base is fully protected from fire. Also, thanks to the fact that this product is made in the style of minimalism, it can decorate any interior, and at the expense of compactness it can be placed in any corner of your home or apartment.