Are you missing some cozy spot in your backyard and you feel like there's no place to relax? Then you've definitely come to the right place, here you can find indoor backyard patio ideas. As a reminder, a patio is a small cozy outbuilding that is a comfortable seating area with comfortable furniture, a dining area or a seating area. In this article, you're sure to find the perfect indoor patio for you.
#1 A stylish patio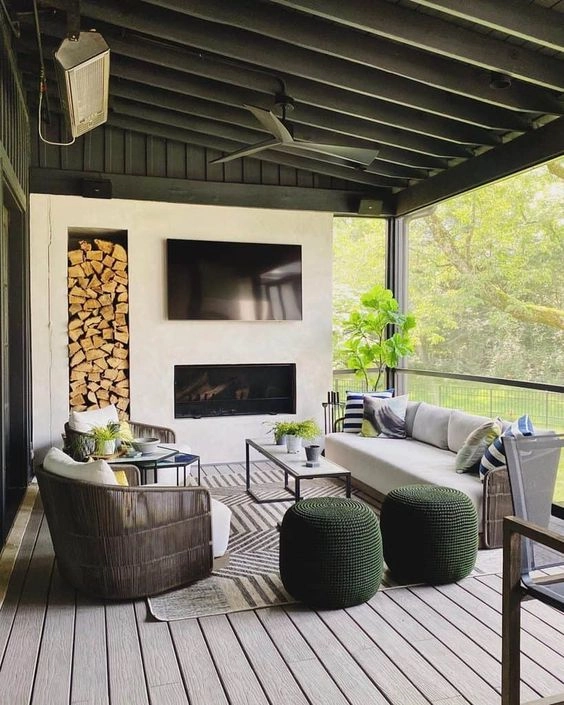 This variation of the patio is the most comfortable and stylish area for relaxation, where you can spend your free time, whether it is a morning ritual with a cup of delicious fragrant coffee, or evening gatherings with friends, or reading a book under the sounds of a warm summer rain. Here you can enjoy verdant views of your garden, watch your favorite show or TV series on the TV with the pleasant sounds of smoldering wood in the fireplace.
#2 Patio & Living Room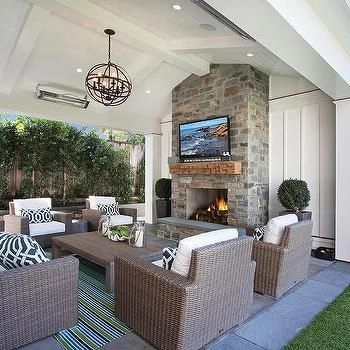 Patio-living room is an ideal area for receiving guests, or sitting with friends or family, but it is worth considering that for such a patio you will need more space and furniture. You can put here as upholstered sofas and chairs, as well as wicker furniture, for the diversification of interior, you can also put a fireplace and small tables for the convenience of guests.
#3 Patio with barbecue zone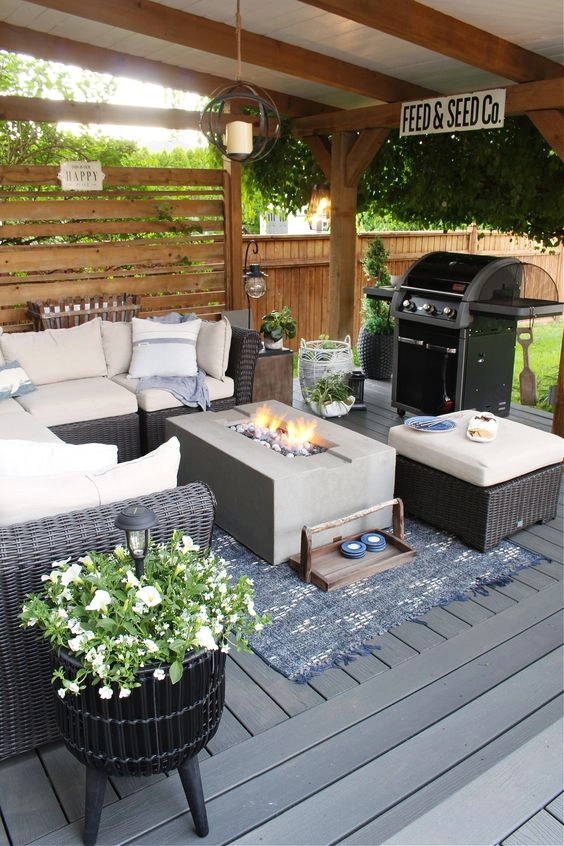 This patio idea is also a living room for cozy gatherings and evenings with comfortable upholstered sofas and chairs. There is also a covered hearth, in the form of a table, which fits perfectly into the interior of this patio and creates a cozy atmosphere. This area is open and not glazed, so on cool summer evenings, it is better to take a plaid with you.
#4 Huge Patio Terrace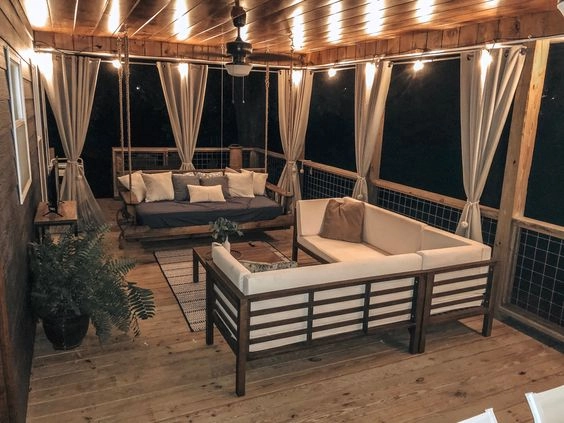 Spacious cozy sitting area will allow you to spend a pleasant free time in silence and enjoy the beautiful views of your garden or backyard, and in the evening or at night you can close the patio curtains, which will protect you from wind and insects, and enjoy a cozy atmosphere with a nice backlighting.
#5 A comfortable little patio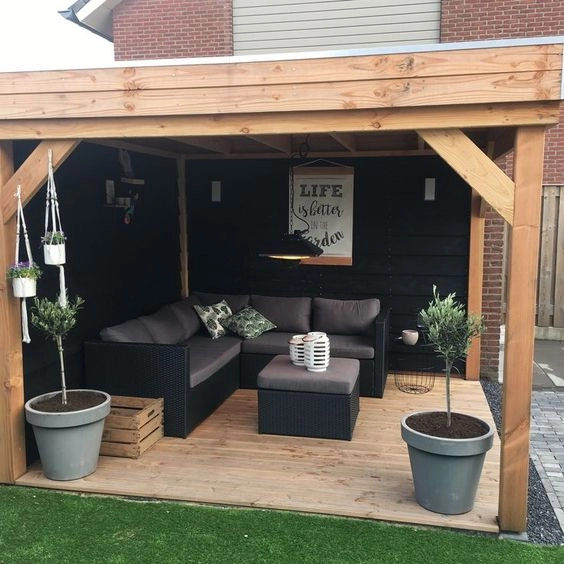 A small cozy wooden patio will be an excellent recreation area for you and your family, and it has a very stylish and modern look, but we must not forget that it is wood and its condition must be monitored and treated in time against the bad effects of moisture and pests. Such a seating area can be easily arranged even with your own hands, as well as dilute the interior with live plants in pots.
#6 Patio living/dining room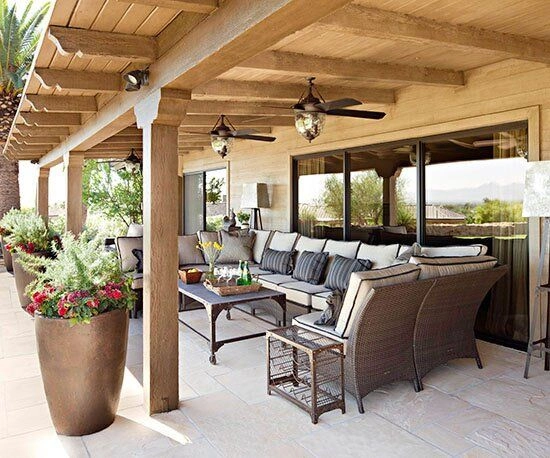 This idea of a covered outbuilding would make a great dining or living area, or even two-in-one. There is enough space for entertaining guests and gatherings with friends, as well as just a nice cozy evenings in a close family circle in the fresh air. In order to dilute and freshen the interior you can add tall pots with bright colors, plaster or bronze statues, or organize a fireplace area – with it your evenings will be even more comfortable.
#7 Patio with lights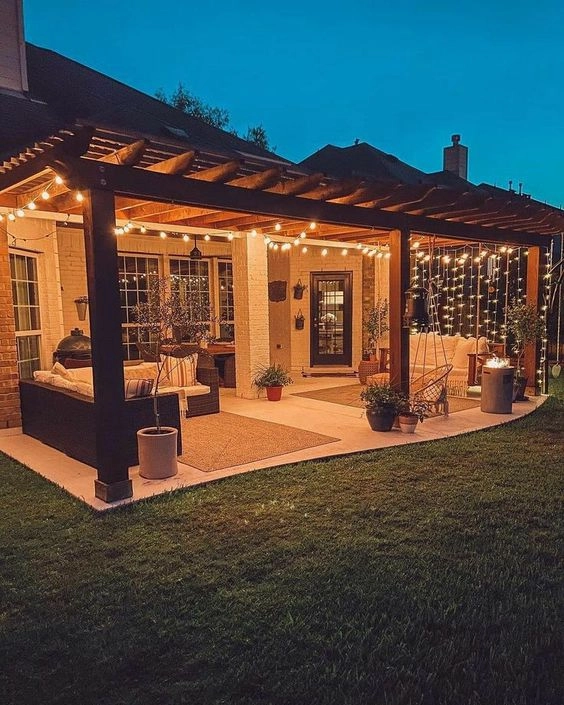 Patio, divided into different zones, will diversify your evenings, because in one zone you can organize a dining room, and by the way eating outdoors is very useful, and the other zone will be an area for entertainment and recreation. When planning any patio, do not forget about the decor elements, it is quite important for an attractive appearance and a finished composition, and the garlands will create an incredible comfort replacing all the light sources.
#8 Stylish black patio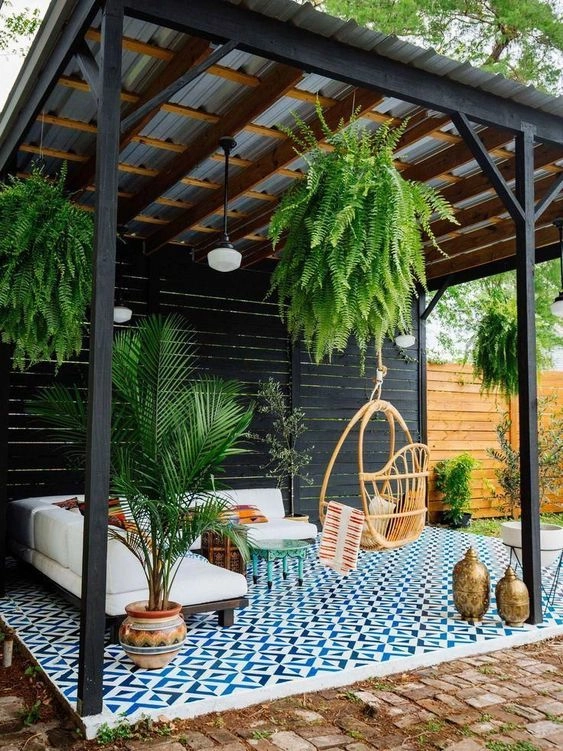 This version of the patio is like a separate gazebo, which has everything you need for a comfortable rest: soft comfortable sofa, a small coffee table, a swing cocoon and such unusual volumetric plants, which create an incredible atmosphere and natural comfort.
#9 Covered patio with stone fireplace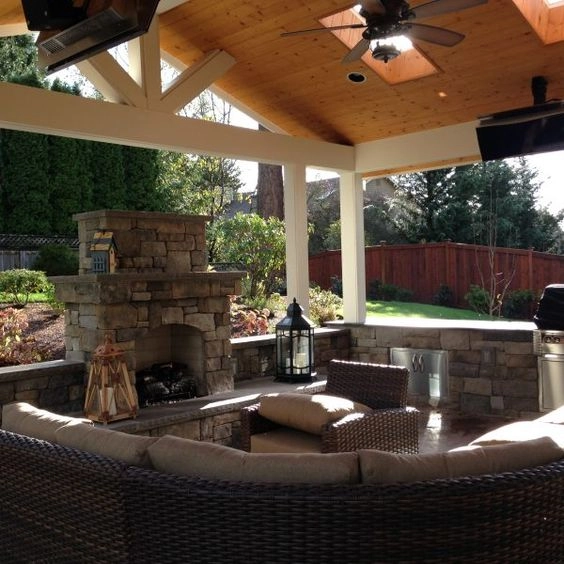 Covered patio with stone fence and fireplace looks very natural, and your evenings near the fireplace will be the most comfortable and warm. This patio is decorated in loft style and is a comfortable sitting area, and if you add non-flowering dark greenery, this area will immediately play with new colors and become brighter.
#10 Patio in the style of minimalism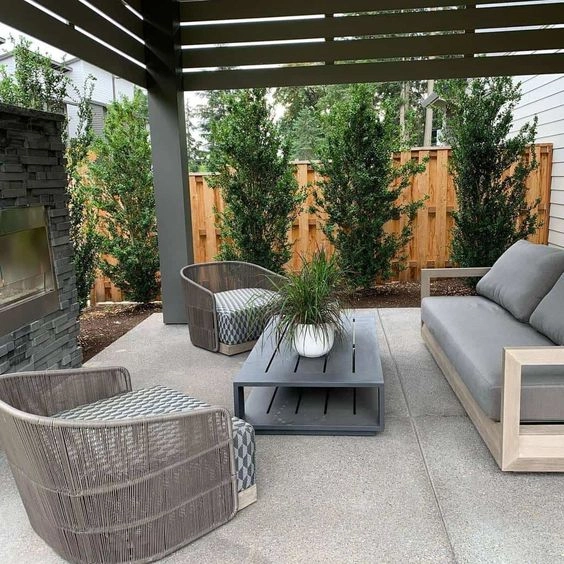 Patio in this style looks very fashionable and stylish, this option is ideal for pleasant evenings alone or with friends, and also such a patio will not require a lot of expenses. This zone can be equipped with your own hands, adding here everything that your soul desires, do not limit yourself, add whatever you want! The materials from which this patio is made, are unpretentious in terms of weather conditions, and very affordable.
#11 Patio-Kitchen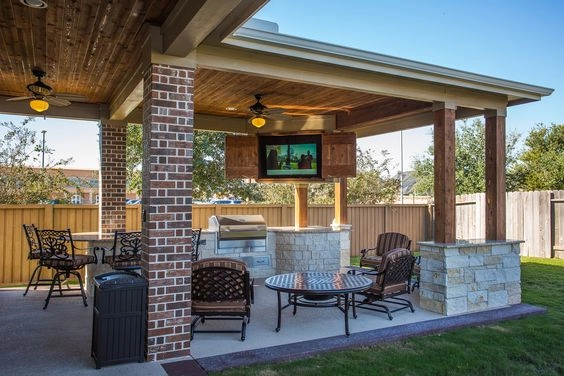 In this area you will spend your time cooking with maximum comfort and enjoyment, because what could be better than cooking a chic dinner under the pleasant lighting of garlands in the fresh air? Unless you sit with your loved one on this patio and eat a perfectly cooked dinner by candlelight and enjoy a nice cozy setting, or watch your favorite movie with friends while sitting on the comfortable chairs and couches.
#12 White Covered Patio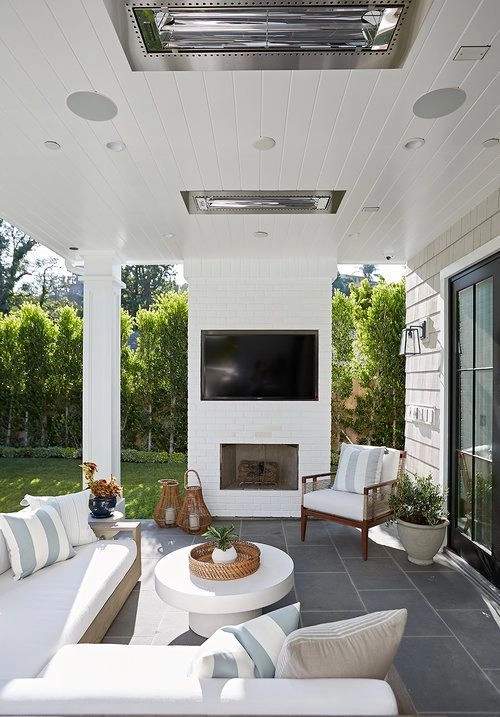 This patio looks like the perfect seating area, agree, especially if your home and landscape design is dominated by white. Such an extension would make a chic seating area on warm summer evenings, and thanks to the convenient location of the entrance to the house, you'll always have easy access to this area.
#13 Soft patio-living room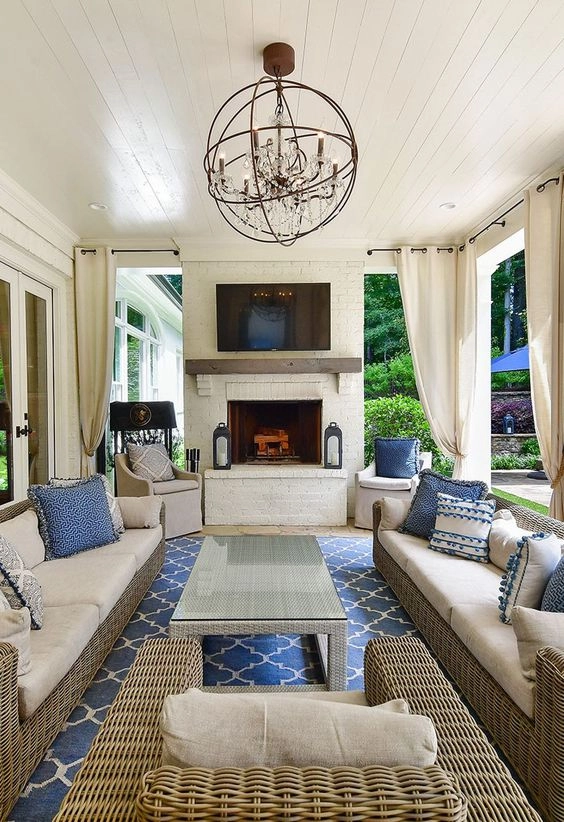 The stylish, spacious patio will serve as a chic entertaining area, and the gentle color scheme will suit any landscape design and home design. Wicker furniture adds tenderness and lightness to this interior, and light opaque curtains will make a fully enclosed area, protected from insects.
#14 Patio Dining Room with Glass Roof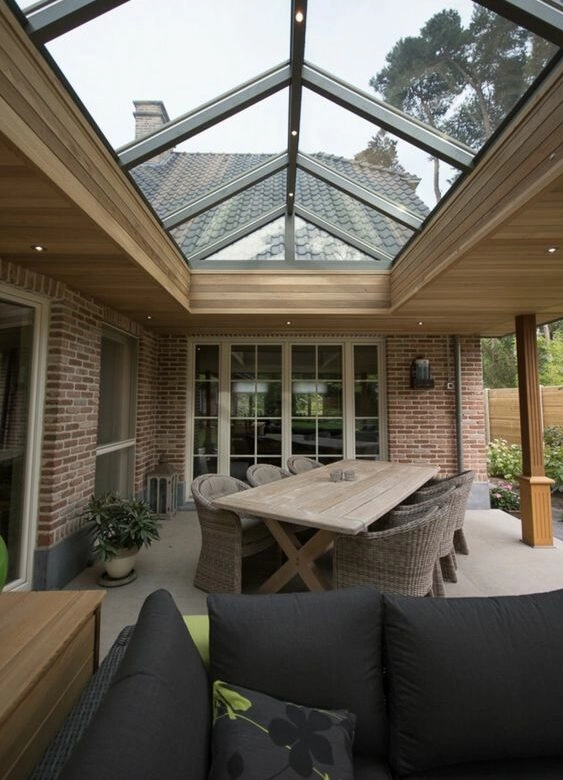 This dining-living area is a great patio option, because because it is enclosed on two sides and two sides are completely open, you can enjoy the landscape of your yard and garden, and the glass transparent roof, in addition to looking unusual and stylish, will allow you to admire the starry sky.
#15 Full Covered Patio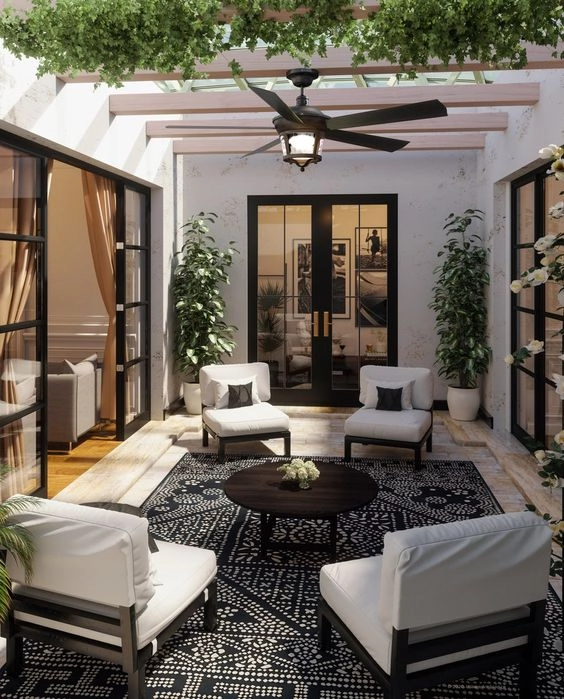 A very stylish and excellent design idea for your backyard patio, and also this patio is an almost completely enclosed sitting area, but thanks to the open ceiling you will always have access to fresh air and also you can enjoy the stars at night.
#16 Patio with entrance to living room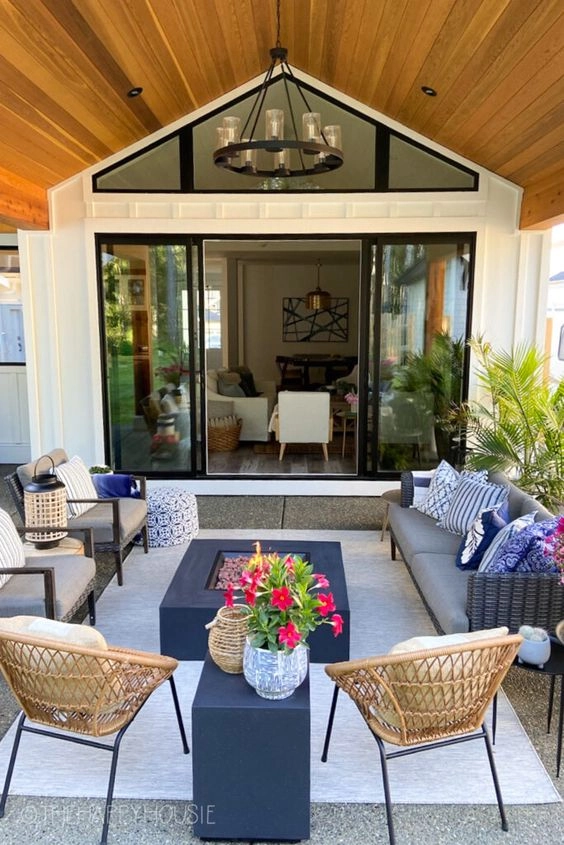 The patio of this plan is an outdoor seating area with the most comfortable chairs and sofas, and as a decor here are live non-flowering green plants. By the way, it is important to choose for the improvement of such areas is non-flowering plants that do not attract insects, for the benefit of a comfortable and relaxing vacation in the fresh air.