Have you ever wondered why the Tudor style is so popular and what its distinctive features are? We are now going to tell you about it. Tudor style was born quite a long time ago in England and in it you can notice the intersection of elements of Renaissance architecture, in France, the Netherlands and Italy.
The modern style Tudor symbolizes the ingenuity of wood and brick, and it looks stylish and harmonious. The main features of this style are steep gables, high chimneys, wood structures and bricks. The roof lines of the Tudor style houses were characterized by steep gables and high chimneys carved and formed of brick, often asymmetrical. And now we will present you with a few design options for a contemporary Tudor style house.
#1 Large Bright Modern House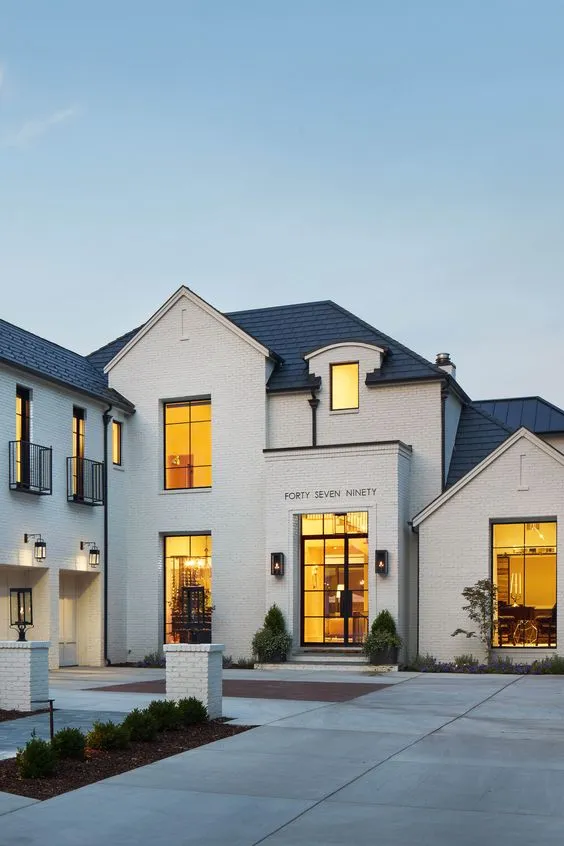 The sloping roof, characterized by its two-part slope design, is perfectly combined with the huge light-colored walls of small bricks. All this gives this modern Tudor style house an unusually beautiful and harmonious look, and the large panoramic windows with slim graceful frames create a modern and cool look. This home has two stories, a lot of huge windows that let in delightful sunlight, and a lovely dark roof that looks great in contrast to the light high walls. Overall, everything about this house is perfect, and every element matches the tudor style.
#2 House with a huge balcony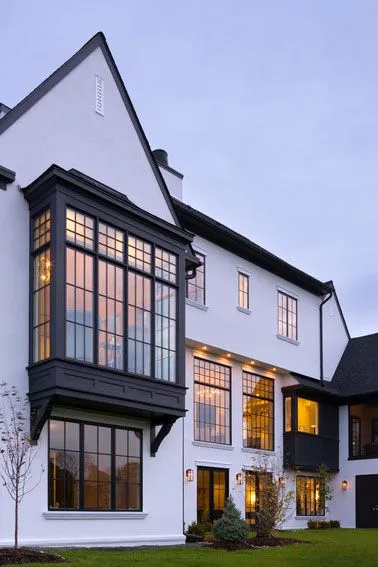 Huge balconies are very cool, stylish and modern. Just imagine stepping out in the morning with a cup of coffee onto your spacious, bright balcony to admire the garden and enjoy the fresh air. Everything in this modern Tudor-style home is perfect, from the brick to the chimney on the roof. Why should you build your home in the modern tudor style? Yes because it is the best and most interesting home style option. So if you want a really cool and stylish big house whose design will be relevant for more than a century, then we advise you to take a closer look at the style of modern Tudor.
#3 Contrasting modern tudor style house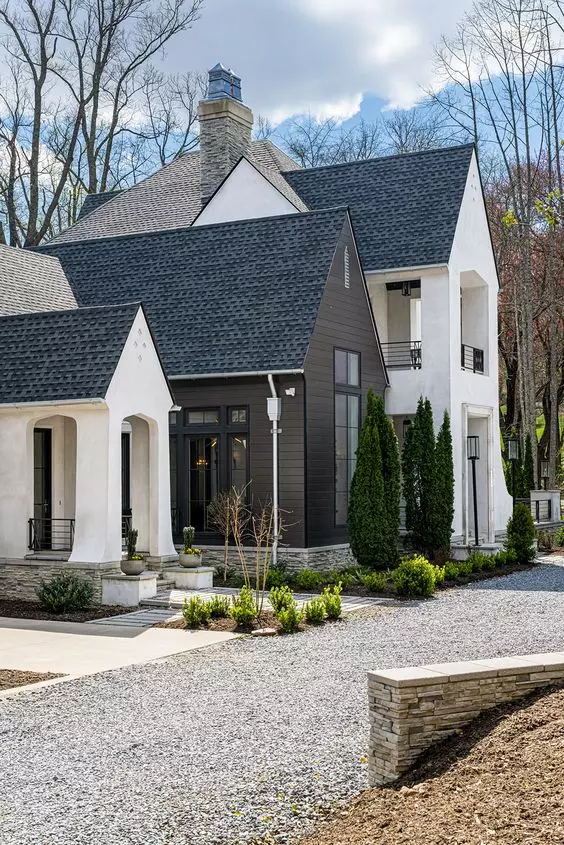 Contrast in the interior is always cool and interesting, but is the contrast in the exterior, namely in the style of the house, its facade, so admirable? Yes, unequivocally, make such a house in a modern Tudor style. If you don't like the usual boring standard homes, then a modern Tudor style house is for you, just look at this option! This house is unusual and non-standard, because it is as if it consists of three parts, two of which are light and one part, which is located in the center – black house. You should agree that this is a very interesting solution. And the parts of the house that are on the sides are made of light brick and the middle part of the house is made of dark wood. It's a great representation of the modern Tudor style. After all, its peculiarity is a great combination of brick and wood.
#4 A small cozy modern house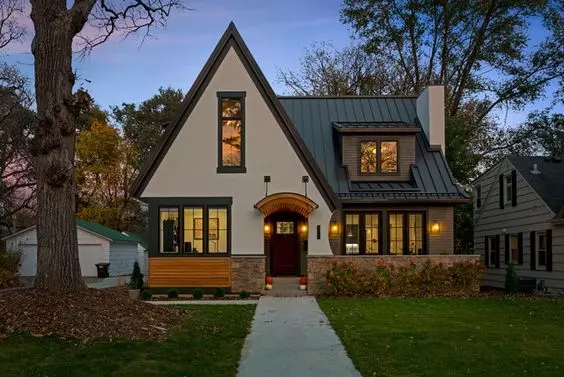 We understand that not everyone wants or can afford to build a huge two or three-story house, that's why we present you a small miniature cozy house in a modern Tudor style. It looks just like in a fairy tale, just look at it, it's just perfect. Such a house can be, as a vacation cottage, and just a house for comfortable life with the family. This option also has a delightful combination of brick and wood, as well as crisp, smooth lines, which perfectly captures the modern Tudor style. The house is practically drowned in haphazardly planted flowers, shrubs, and climbing plants. The architecture is in keeping with the style: symmetrical windows, chimneys, observation windows-all these elements are done harmoniously and beautifully.
#5 A huge white modern house
This house is as chic and elegant as possible, done in white colors and modern Tudor style. It looks like a real home of the president, or some very, very influential person. The house simply by its appearance indicates the high status of the owner or hostess, and fascinates with its grandeur. And the beautifully manicured hedges, paved walkways and playground, the gazebo in the same style – all this will create a complete picture, and so you will add the house bright colors and refresh its snow-white walls. By the way, the interior of the house should match its appearance, everything should be harmonious, stylish and restrained.
#6 Modern Tudor style house with panoramic windows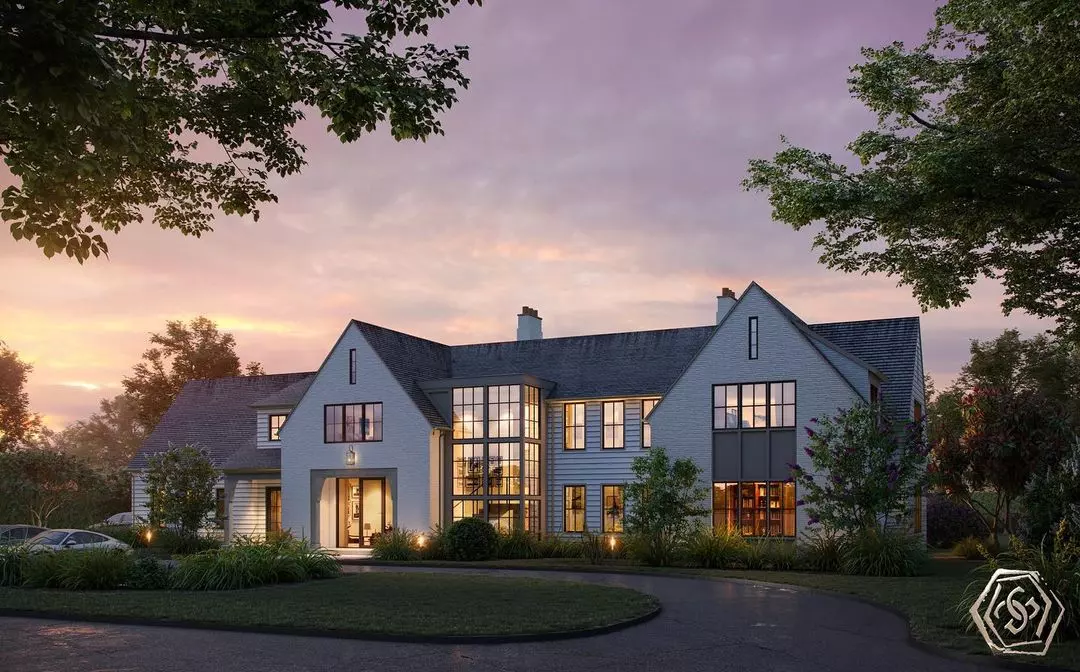 Panoramic windows are not only a source of good light in the house, but also a good mood, because just imagine how cool it is to look through a large window at the morning birds or at the bright stars at night. In such a house you can even make a room for your cat, because there is an incredible amount of space and rooms, respectively. A modern all-glass wall is an ideal option for those who do not like classic boring brick walls. Lots of windows are the key to a bright life, both literally and figuratively. This modern Tudor style house is fully consistent with all the features of the Tudor style.
#7 Black and white tudor style house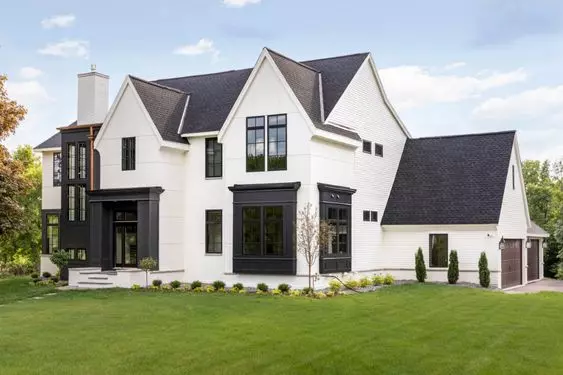 Black and white tones are maximally standard and pleasant for perception, nevertheless, classics are always in fashion. Complementing each other, these colors do not cause negative emotions, do not irritate and are almost neutral in the context of psychological factors. In general – it is now fashionable, and is admired among connoisseurs of innovative solutions in the design of modern homes. At the same time, a little bit of natural wood was added here. This softened the idea of black and white exterior of the house. Wood was also used to accentuate certain elements of the façade. It harmoniously integrates the ultra-fashionable modern Tudor style house into the natural surroundings with green lawns, trees and bushes.
#8 Stylish black modern house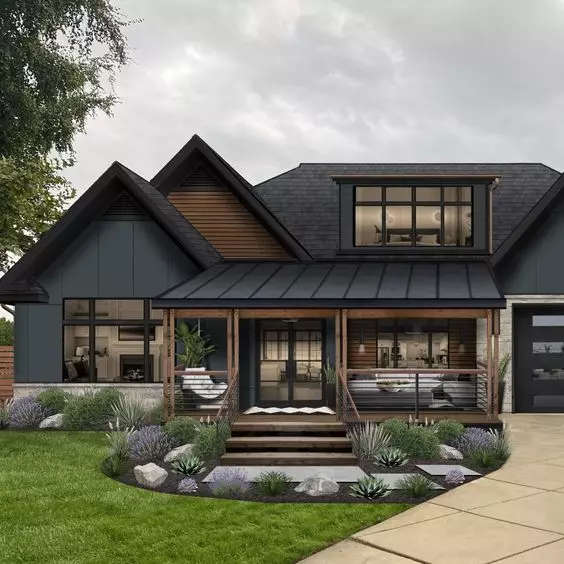 Black is not always just aggressive and dark, in fact, just by adding some wood decor and an unusual front door, you can dilute the black color and create a warm atmosphere. A black modern tudor home is not only very stylish and cool looking, but it also meets all the standards of a modern tudor style. Just look at how stylish and attractive this house design looks, it's just incredibly unusual, and thanks to the wooden details and elements, which by the way perfectly reconnect with the black facade of the house, it doesn't look gloomy. The panoramic windows here also fit in perfectly and add modernity.
#9 Unusual modern Tudor style house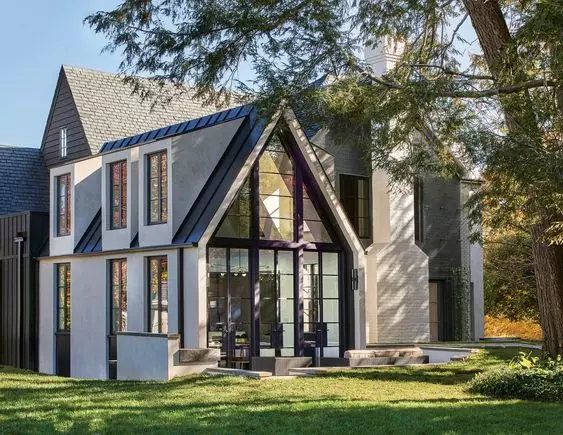 Just look at this unusual modern Tudor style house, it is just excellent, look how all the details are combined together, nothing unnecessary, everything is super harmonious and aesthetically pleasing. And most importantly, all the features of the style of modern Tudor, wood and brick – the main elements of style, harmoniously combined and merged into one. The dark gray roof matches perfectly with the white brick high walls, and panoramic windows are a reflection of modernity and style. Just imagine moving into your new home, and everything is perfect and very stylish, it's just a dream for everyone. Take a closer look at this modern tudor style home design option!
#10 Stylish large tudor style home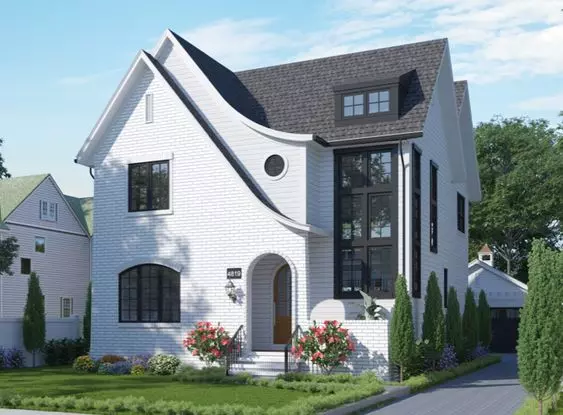 Well and the last design option of the modern Tudor style house, which we will consider, is such a light two-story brick house with a black roof, windows and door. It is also a house in monochrome colors that are pleasing to the eye, not annoying or stressful. Everyone who is now building houses and thinking about the design, most often choose monochrome black and white colors, because it is a timeless classic and always looks very stylish and modern. At the same time there are smoothed elements on the house, which give incredible charm and elegance.