Does your garden seem boring and unfinished? A good idea to enclose your small or large garden is to put garden edging. Don't underestimate the power of such decor in transforming a garden. A well-chosen border is a great way to dilute and diversify the appearance of your garden.  Here are a few examples of how to decorate your garden in a tasteful way.
#1 Natural stone edging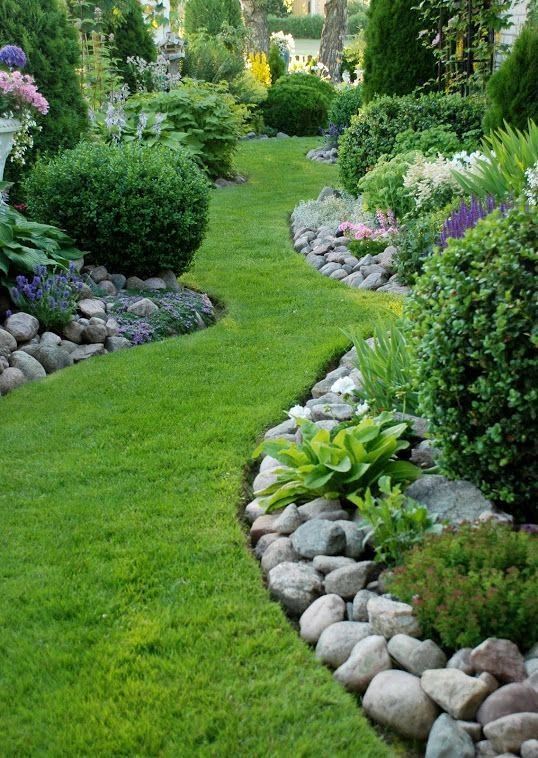 Do you want to diversify your garden without cluttering it? Then this option is for you, because natural stone edging not only looks stylish, but also fits perfectly into the garden composition. Due to the fact that this edging uses exactly natural stone, the garden gets a truly natural look. It will be good to complement this composition also with stone figures or elements, as well as a stone can be decorated with a fireplace and other elements of the recreation area.
#2 Garden edging with mini stones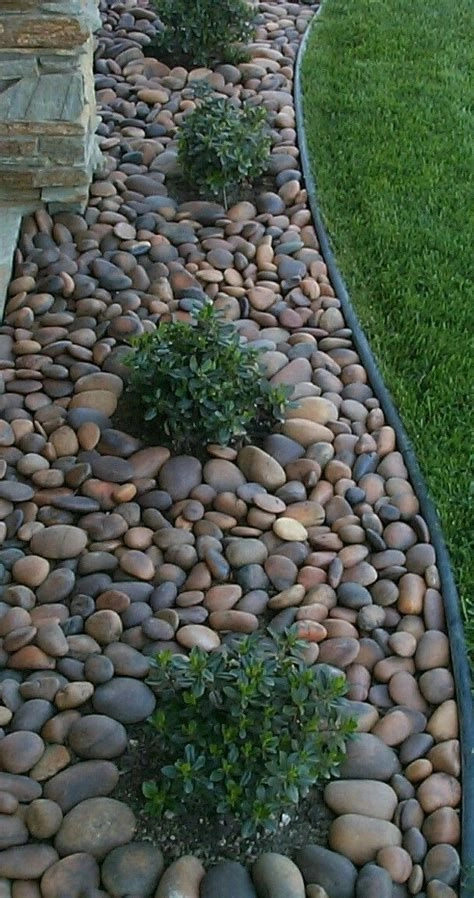 This garden edging option looks very concise and cute, and small stones look good in a well-kept garden. This type of edging with mini stones is not only a trendy and stylish decor, but it also saves your flower beds from unwanted excess grass by filling in the extra space around the plants.
#3 Undulating garden edging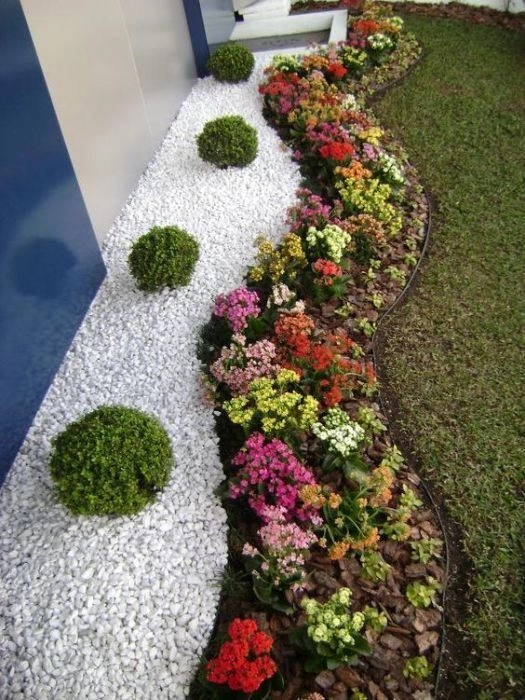 This double wavy garden edging looks excellent and gives your garden a more modern and stylish look. The white small stones create a contrast and with this form of edging you will give an interesting and unusual look to your flower bed and garden as a whole. And, thanks to this edging, you will get rid of unnecessary grass near the bed and the flowers growing in white stones will look brighter.
#4 Smooth stone edging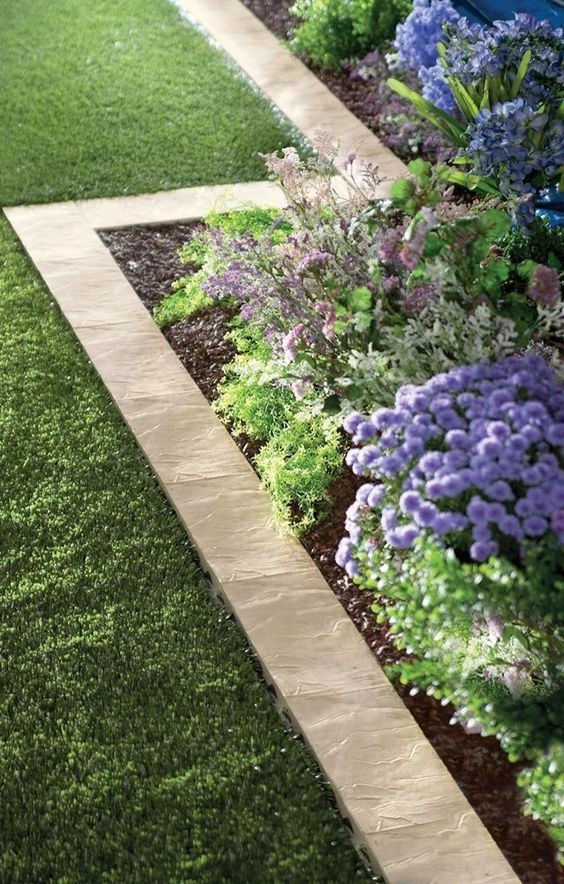 This garden edging idea looks very neat and no less stylish than the others, due to its brevity and simplicity. In this way you can enclose all the flowerbeds that are in your garden, without cluttering and overcomplicating the space, but rather giving a fresh and modern look. Although, this option uses not natural stone, but a quality substitute, this edging looks very natural.
#5 Stone edging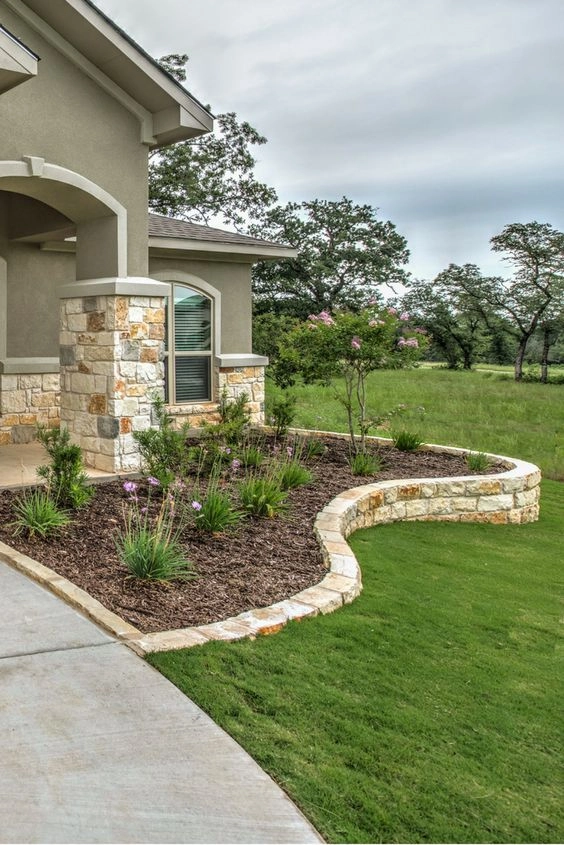 Low borders and fences for beds, edging of garden paths, zoning of the site perfectly complement the composition of the garden. Small stones can not only decorate the garden, but also play the part of drainage, protect beds and beds from slipping on the paths and lawn, and thanks to a stylish and neat appearance complement your garden. You can also use figurines or stone elements as an addition.
#6 Trim made of wooden boards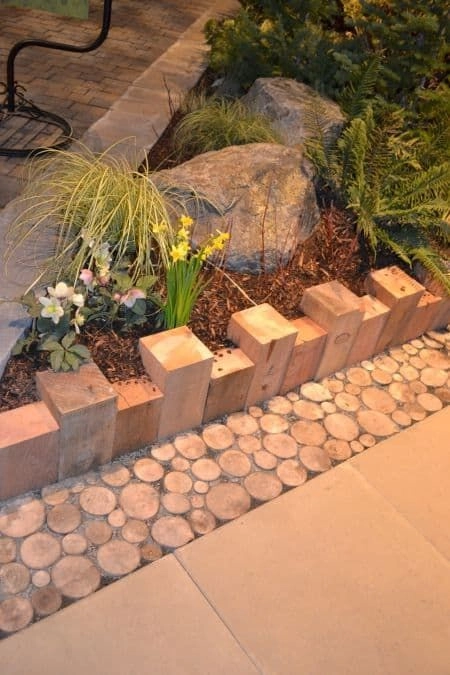 Wood is the most accessible material used for edging because it can be easily recycled from old wood fences or wooden boards. It can be worked at home without the use of specialized machines. The only disadvantage is a rather low life span, especially in rainy areas, but you can extend the life of wooden edging with special wood impregnators.
#7 Log edging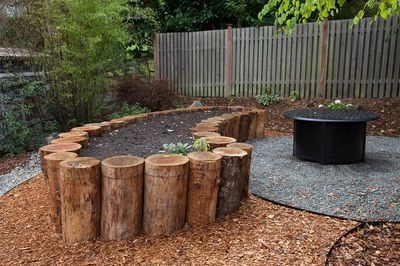 This kind of timber edging will help to create volumes in your garden and decorate your flowerbeds, making them more neat and unusual. Wooden edging of this type creates a pleasant atmosphere, with them your garden will play with new colors, and the beds will become higher and more beautiful. And thanks to the natural materials used in this edging, your garden will look as organic and natural as possible.
#8 Garden edging with lighting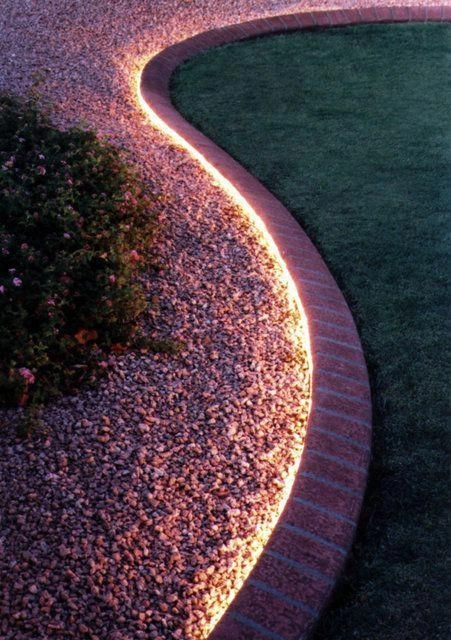 A quiet nighttime illuminated stone edging not only looks stylish, but also illuminates your garden paths well enough so that you can walk around your garden at night without additional lights or lamps. This kind of edging makes your garden look more stylish and modernized, and also, in the daytime, when the lights are off, look just as cool and stylish.
#9 Garden edging made of stone blocks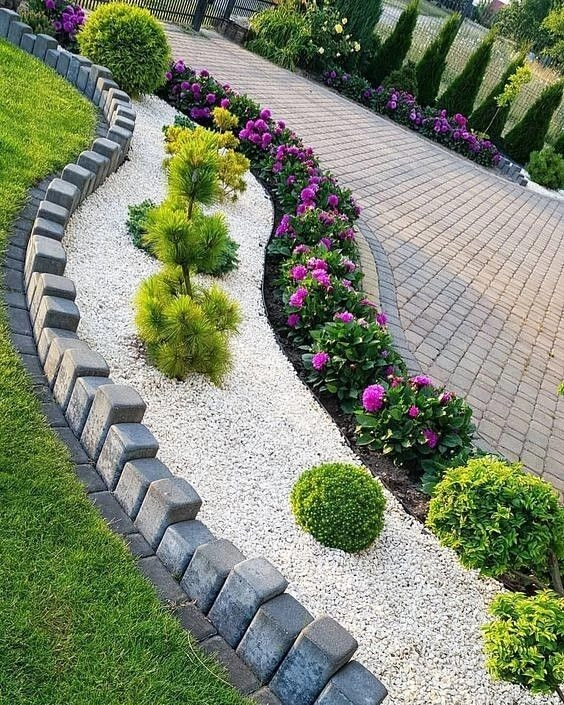 Unlike wood, stone is not as affordable, but it is also not difficult to find, and of the main advantages over wood, the stone has a maximum service life. Longevity of this edging can only be envied, because it is not afraid of neither snow, nor rain, nor a storm, it will stand and please your eye for a very long time.
#10 Bamboo edging of the garden
Such a lawn edging looks very harmonious and unusual, and you can also do it in two ways: by making the height chaotic and different or all bamboo sticks of the same height. Although, both options look beautiful, agree, the appearance is fundamentally different, so if you are a perfectionist and love everything perfect and smooth, then you should choose the second option, and if you like the unusual and chaotic, look at the first option.
#11 Wooden edging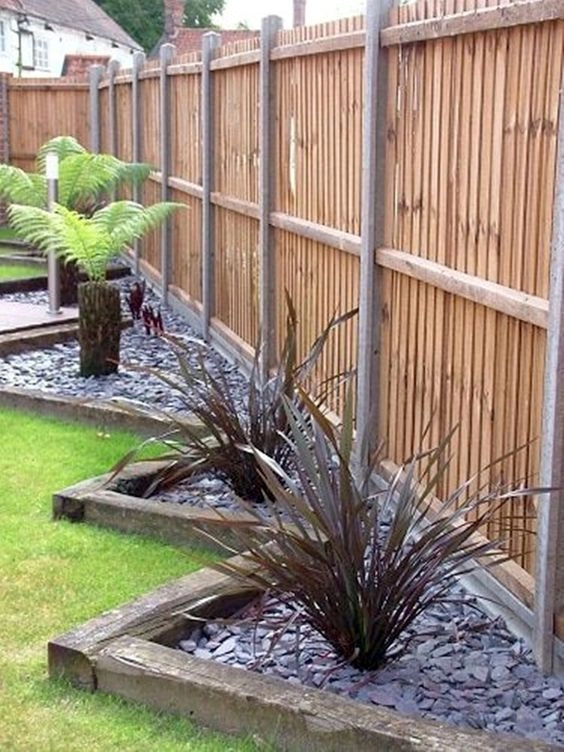 Such wooden edging made of boards is made in the form of triangles, which gives an unusual and interesting appearance to this element of your garden decor. This edging is a very budget option and can be done even with your own hands, without much effort and money. Despite its simplicity and ease, this edging looks very harmonious and complements the composition of the entire garden.
#12 Metal edging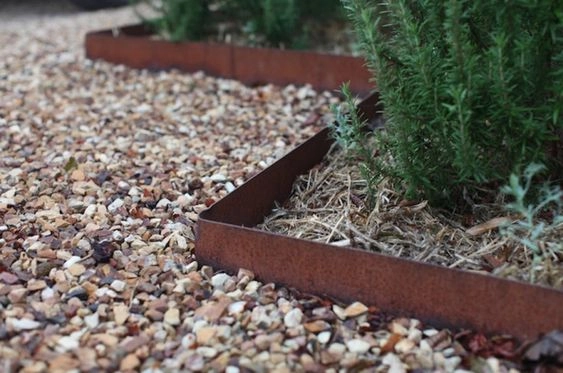 A buried edge in the ground metal edging creates sinuous garden borders that will hold the ground year after year. Metal panels rust and fade beautifully and are generally an excellent choice for fencing and edging, giving the lawn the right shape and structure. Also, this type of edging is unpretentious in terms of durability and it is not afraid of weather conditions, because even in the rusted form it looks very harmonious and emphasizes the boundaries of the lawn and flower bed.
#13 White stone edging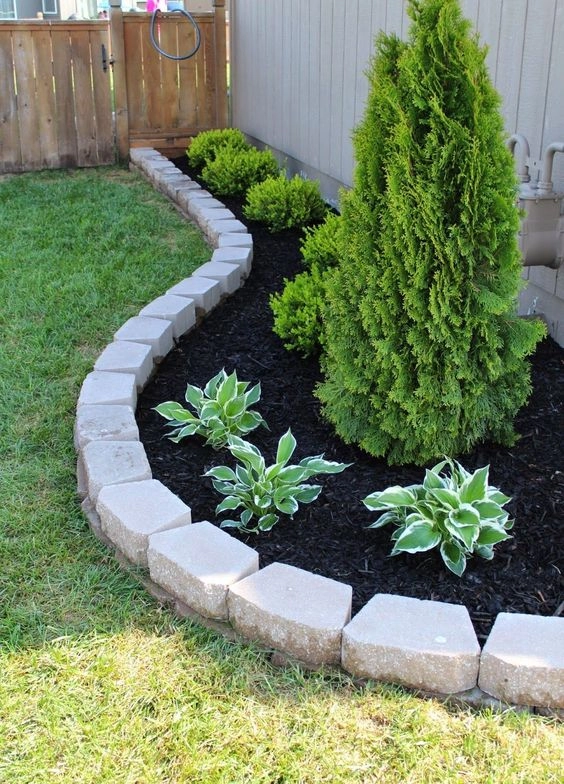 Even, perfectly matched white stones of the same size are a great way to frame your garden, especially if you have a lot of white in your garden, such as white wooden garden furniture, gazebos, decorative features, and so on. Simultaneously simple and interesting idea of garden edging will perfectly complement the overall picture.
#14 Stone and wood edging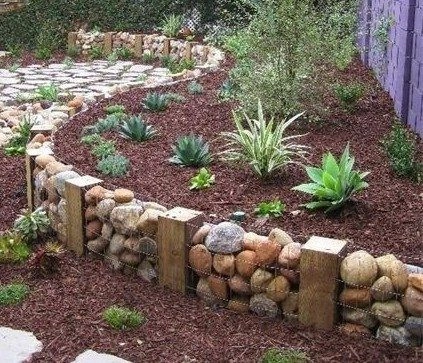 Such a combined stone and wood edging will not require much maintenance, but from the metal mesh will have to remove fallen leaves and branches, which is not very convenient. But still, agree, it looks interesting and unusual for such simple and accessible materials, and also this edging has a long enough service life, but there is one nuance – the wooden posts, they will need to be treated with special impregnation, in order to increase their service life.
#15 The perfect edging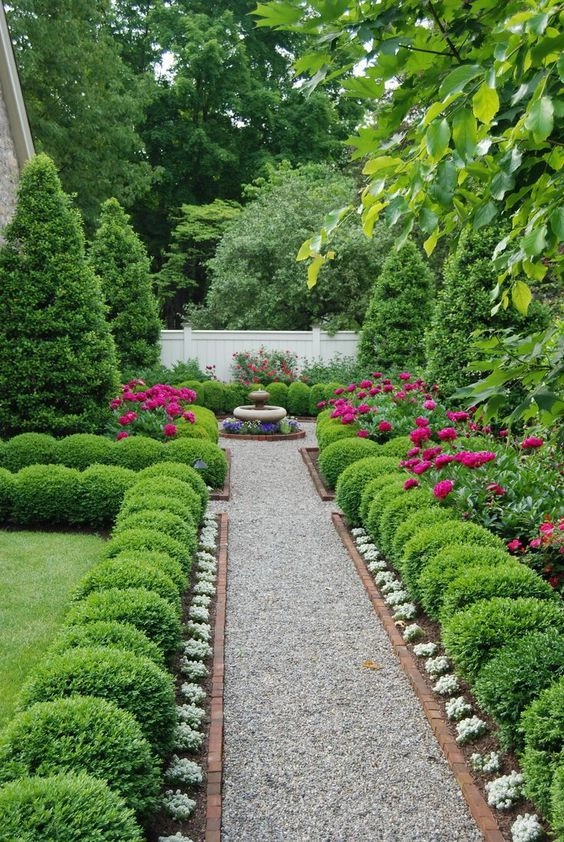 This edging of small bricks not only looks good, but also perfectly separates the boundaries between the lawn and the path, and if you also have such perfect and neat little shrubs around the perimeter, this option is perfect for you. This edging does not require any maintenance, thereby saving you time, effort and nerves, and the ease of doing it saves you money.
#16 Rocks edging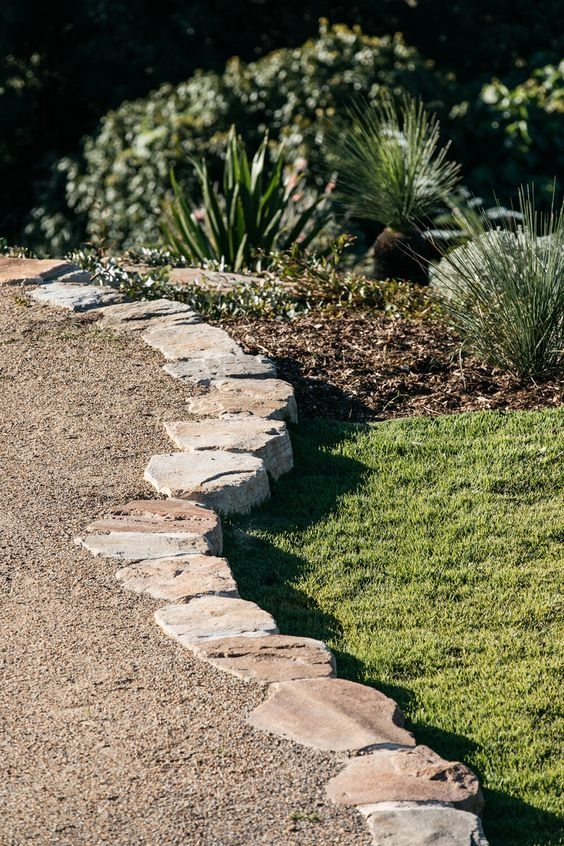 Large stones are a must-have for minimalistic landscape design, this decoration of the garden sets up for relaxation and achieves an expressive effect by small means. Such flat stones look great on the border of the path and the lawn, and also perfectly combined with the rest of the elements, because the stones can also cover a pond or flowerbeds.