If you have kids, you probably know how difficult it can be to keep them occupied, which is why we offer you a solution – a playground in the backyard. Playgrounds are an excellent option for the sports development of kids and will serve as a great area for children to relax. Playgrounds also train dexterity, endurance and allow children not only to have fun, but also to train their bodies.
#1 Space-saving playground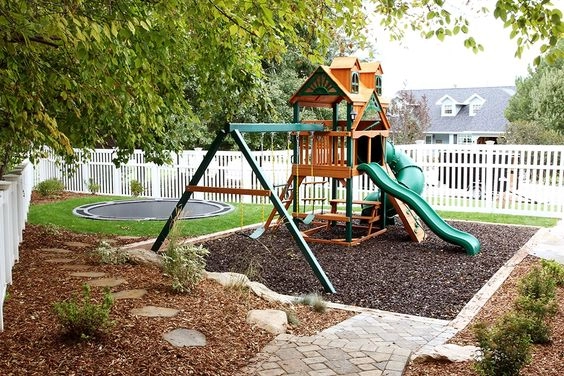 This playground is suitable even for a small background backyard of your home or cottage, but despite its small size, it contains all sorts of components. There is a slide, and not just one, but two: in the form of a pipe and the usual standard, the ladder you can get into the improvised house with a roof, under which there are benches, and this complex has some swings and ropes.
#2 Playground – a separate town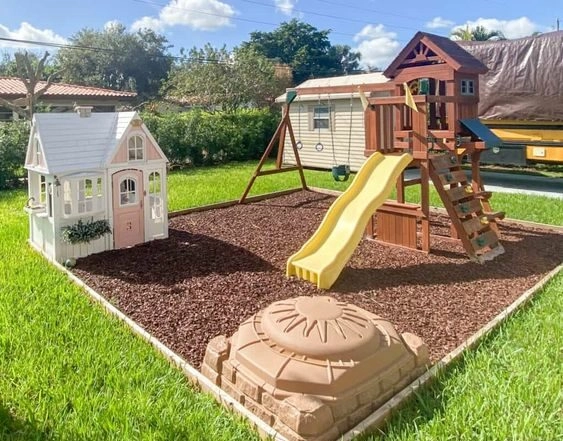 On the territory of this playground there is a plastic playhouse, where you can hide from the heat or rain, as well as, for example, to arrange tea parties or just to spend time, come up with different games. The playground itself is well-equipped, because it has various slides, ropes, ladders and swings.
#3 Fashionable playground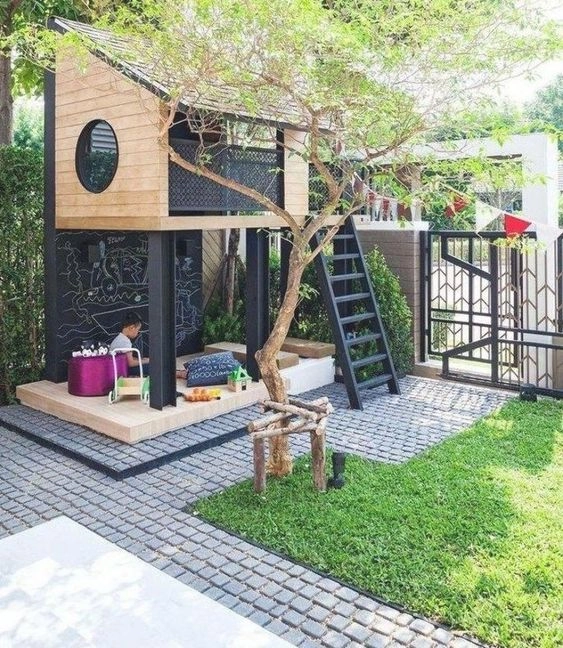 Just look at this incredibly stylish and fashionable playground in a modern design, it is small, but thanks to the house, which you can climb up the stairs, your child can spend time very cool. Frankly speaking, you will agree that you yourself would not refuse to spend time in such a house, because it is very spacious and stylish, and the play area below is protected from the sun, so it will be comfortable to play or rest there.
#4 A luxury playground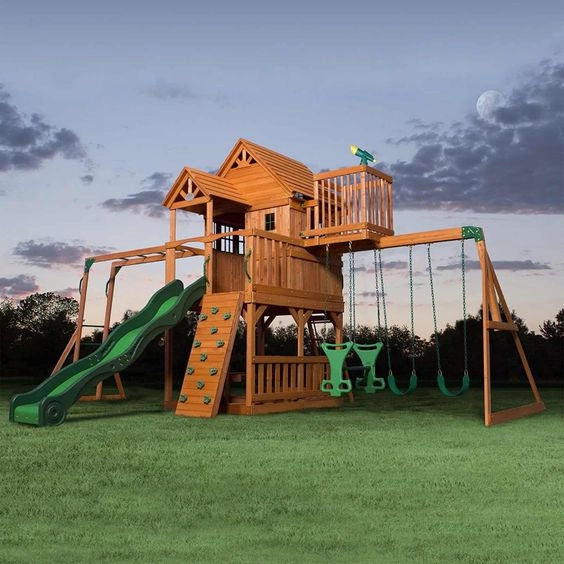 This playground looks very solid and cool, your child will definitely not get bored with it, and the maximum equipment will diversify the usual boring games in the backyard. There are two kinds of swings, a steep slide, ladders, climbs, a house upstairs and a balcony from which you can watch the whole backyard, and under the house there is a sandbox, or you can put a blanket there and have picnics, and your child will not be in the sun and will not get sunstroke.
#5 Wooden playground with a trampoline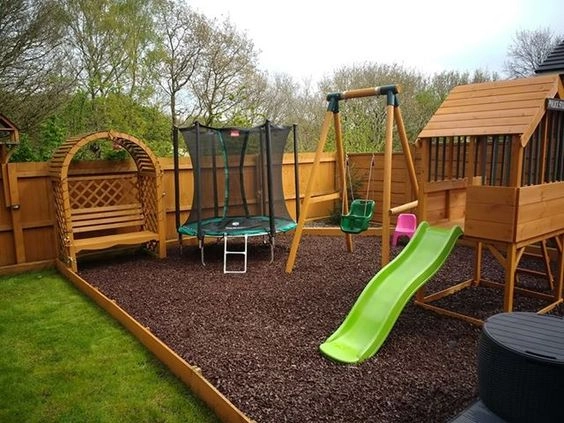 This variant of the backyard playground features divided components, which takes a little more space than when it is all one complex, but still, it looks stylish and beautiful. The trampoline can also be put larger, it would depend on the size of your backyard area.
#6 An extraordinary playground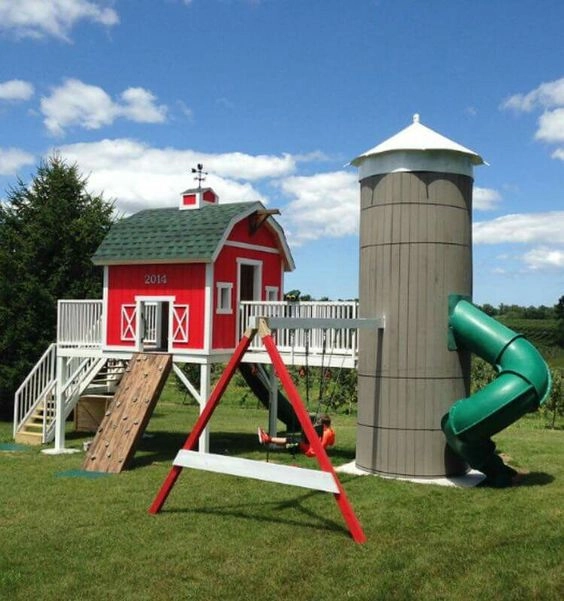 This unusual playground will be a favorite pastime place for your children, because it looks like some kind of secret base or mini-town. You can go up the stairs or the rock climbing wall, and go down the straight slide, and from the tower you can go down the pipe slide, also in this playground complex there are swings on chains, they are quite reliable and strong.
#7 A small colorful playground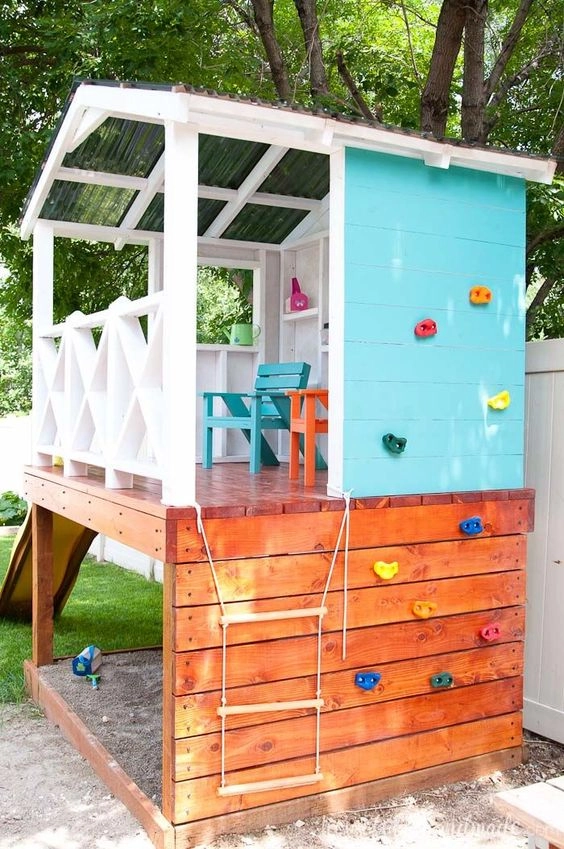 Notwithstanding the small size and compactness of this playground, it has enough elements for entertainment: a sliding, a climbing board, a ladder, a sandpit, and most importantly, a gazebo house in which you can sit, play, draw or have tea parties with friends. Bright furniture in the house and brightly colored elements add colorfulness and variety.
#8 Fashionable wooden playground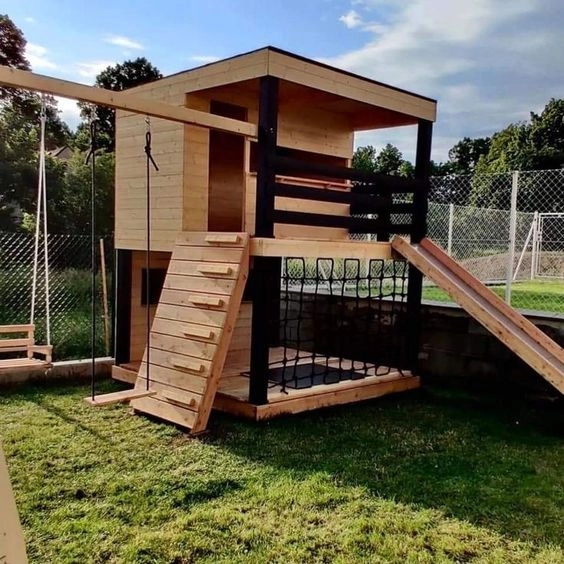 This modernized backyard playground idea is perfect for lovers of minimalism and restraint, because this playground is as good looking as even a residential home. So if you don't want a bright regular playground, or you stick to one style, then this playground is the must-have for you and your kids, and it also has all the components for a fun and energetic time.
#9 Bright Playground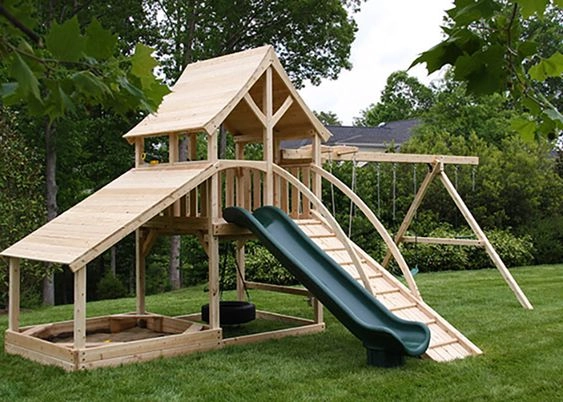 This version of the playground is quite simple and standard, however, many people choose these playgrounds, because it is a classic. It is an open accessible playground that will diversify your child's leisure time and increase interest in sports, as well as allow you to spend more time in the fresh air with health benefits.
#10 A simple playground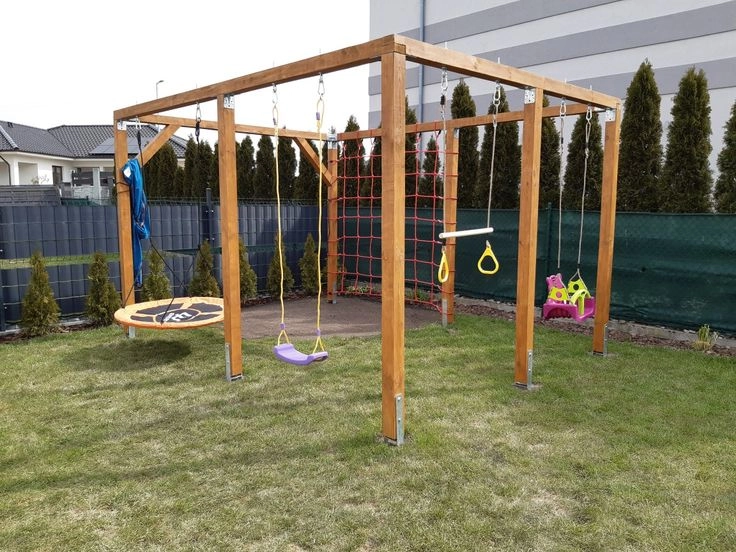 This option of a children's playground is very simple and at the same time unusual, it can be made even with your own hands, without spending a lot of money. It consists of wooden bars, securely anchored to the ground, and this frame is already attached to a variety of entertainment, such as swings, rope ladders and any other sports equipment, and if you pull the sun protection fabric on top, you can put a blanket inside this center and relax in the fresh air.
#11 Gray Playground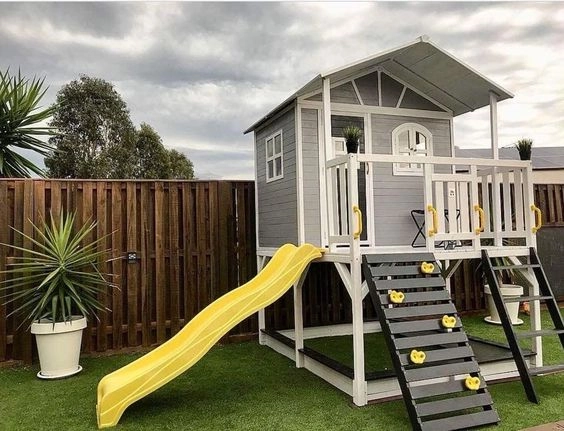 The gray plastic playground not only has a stylish attractive appearance, but also has enough different play and sports elements, while having a compact size and will be suitable for a small area of the backyard of your home or cottage. Yellow elements (slide, handles, holders on the climbing wall) go well with the gray spacious house.
#12 Wooden playhouse with large slide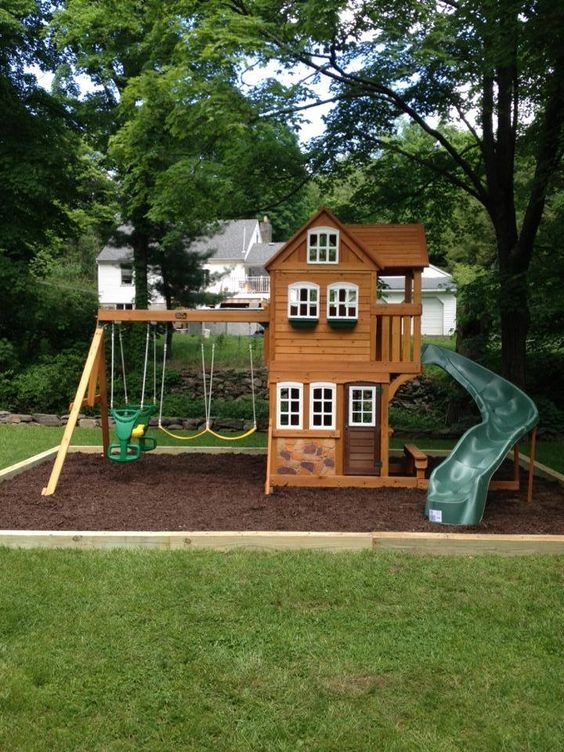 A personal wooden two-story playhouse – what could be better for a child? Such a playground will be a favorite place of your children, whether it is in the backyard of your house, or at the cottage, with such a play complex your child will never get bored. This play house looks like a real one, only smaller in size, and in addition there is a large slide and different swings.
#13 White Playground
This playground is quite a bold option, because the white color needs to be taken care of, but despite this, this playground is a great option for a children's entertainment corner in your backyard. This playhouse looks like a nautical style house, due to the color scheme, your child will have fun outdoors in this playhouse.
#14 Incredible playground with LED lighting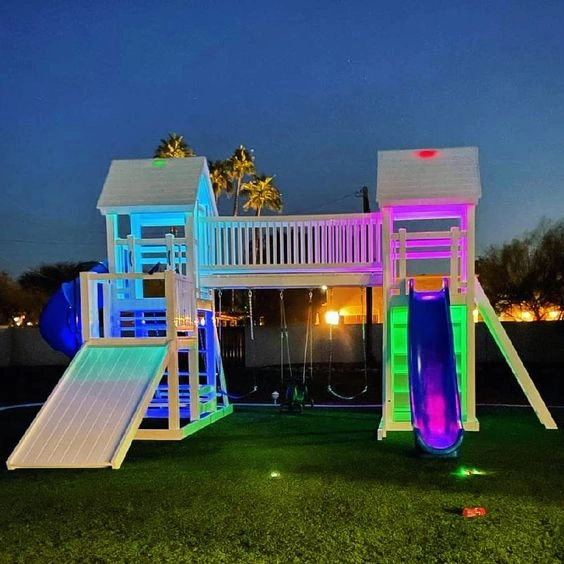 This playground idea looks incredible, especially in the evening, when the colorful lights are on. If you're wondering about safety, don't worry, these ice tapes are completely safe and won't cause a fire, and they're solar powered. With such a playground in the backyard, you do not need any rides, your child will spend all his free time there in the fresh air.
#15 Unusual playground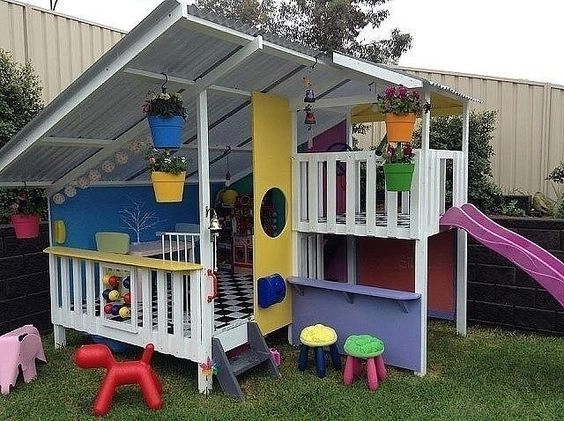 A very unusual and cute version of the playground for your child will be a great area for recreation and entertainment. Such a cozy summer house is sure to please you and your children, which can be decorated with flowers, and it will look very aesthetically and harmoniously.